Monday, October 6th, 2008
Fate brings German man to Oktoberfest
Minster teen's aunt, uncle stayed with Prenger family in Germany years ago
By Margie Wuebker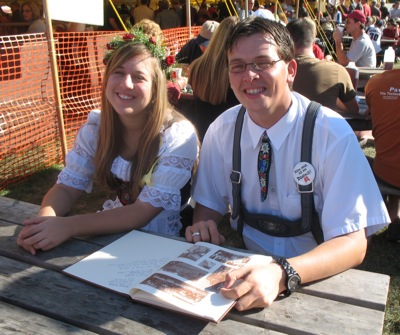 MINSTER - Christan "Chris" Prenger of Emstek, Germany, sits with members of the local Prenger clan as the Klabberhead Orchestra plays a popular German tune at the 34th Minster Oktoberfest on Saturday afternoon. He sings along not missing a "nein" or a "fraulein."
"I think it is wonderful people here come together to celebrate their German heritage," the 27-year-old visitor says. "Being German is something to be proud of."
He says fate brought him to Minster.
In 1986, Minster residents Willy and Carol Prenger visited the Emstek area while researching their ancestry. They stayed with Chris' family when he was just 5 years old.
He first came to the U.S. in 2004 to visit a friend working at Walt Disney World's Epcot Center. During the visit he learned about an exchange program that draws young people from throughout the world to staff international pavilions at the popular attraction.
"I applied before I went home but somehow Disney lost the paperwork," he says. "I went back to my job scheduling truck transports all over Europe and applied to Disney again."
He came to Disney World in late November to begin a one-year assignment at the German Pavilion and was on duty in the gift shop the day the Minster High School marching band performed at the Magic Kingdom.
Following the performance, band members Meagan Sharp and Beth Albers decided to purchase souvenirs and their search led to the gift shop where Chris worked.
As they talked to Chris and learned he was from Germany, they asked if he knew any Albers or Sharps in Germany. Meagan also asked whether he knew any Prengers - her mother's side.
"It was very surreal," Chris says. "I figured one of my co-workers was having some fun with me and put her up to asking about my name. After all, Prenger is not a common name like Smith or Jones."
Meagan hurriedly placed a cell phone call to her mother, Tina, one of the chaperones accompanying the band. She came running and a check of his identification proved there was no joke involved.
They talked and Tina Sharp recounted how her uncle and aunt (Willy and Carol Prenger) had visited Germany years ago and stayed with a Prenger family in northern Germany.
"I remembered the Willy Prenger that stayed with us had a gas station and liked old vehicles," Chris says. "He had an old bus that he restored."
Tina confirmed this was indeed her uncle.
The Minster group invited Chris to come to this year's Oktoberfest. He accepted an offer to stay with Meagan's grandparents (Ken and Diane Prenger) and arrived Thursday for a six-day visit, bringing along two Epcot versions of the classic lederhosen look.
"The people here are very friendly just like in my part of Germany," he says. "Munich has the Oktoberfest, which draws a million visitors but I have not gone there yet. This is a nice crowd for a small town."
The Klabberhead Orchestra begins playing a familiar strain as young and old come forward for the beloved chicken dance. Many of them sport chicken hats complete with feathers in vibrant colors.
"We have the duck dance in Germany but not the hats," he says with a smile. "Perhaps I can sell hats like these when I go home in December."
When asked about all the Bavarian food - from sausage and sauerkraut to cream puffs and strudel - Chris pauses before politely labeling it Americanized German food.
The Oktoberfest is only one stop on his itinerary - he's been to Egypt to tour Prenger Implement, St. Joseph Catholic Church and the cemetery dotted with tombstones bearing the Prenger surname.
He attended a Minster Wildcat football game and marveled at St. John the Baptist Catholic Church in Maria Stein, explaining it looks much like the church he attends at home. A tour of St. Augustine Catholic Church led by the Rev. Rick Nieberding took place this morning with a gathering of distant Prenger relation planned this afternoon. He heads back to Florida on Tuesday.
"I bought an Oktoberfest book here and I am having everybody I meet sign it," he says. "The book will always remind me how fate brought me here to Minster, Ohio."