Monday, October 6th, 2008
Harrison, Erb pick up wins at Eldora
By Jim Morrison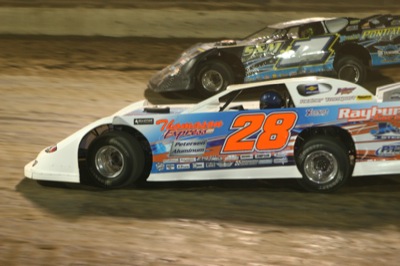 ROSSBURG - What a difference 24 hours made at the UMP Nationals at Eldora Speedway this weekend.
After Mike Harrison won his heat race Friday night, he had an unusual accident which badly damaged his car. Harrison clipped another car and then flipped in the first turn. The Highland, Ill., driver's crew worked into the wee hours of Saturday morning making repairs.
"I thought our weekend was over," said Harrison. "We pieced it back together the best we could and it worked out.
"We were up until 2:30 (a.m.) this morning working on the car, and then we got back up this morning about 9 (a.m.) and started again. We finished about 1 (p.m.)."
When Harrison started the 25-lap feature paying $3,000 to win, the repaired car was untested. Harrison, starting on the outside of the front row, jumped into the lead and never had a serious challenge early in the race.
In the closing laps, Harrison fought off challenges from Jacob Hawkins and Steve Arpin with the three running three-abreast at one point. Harrison finished just ahead of Hawkins with Arpin third, Kent Robinson fourth and Scott Orr fifth.
"Since 1995, one of my goals was to win a race here. I finally did it," said Harrison.
Jon Henry, one of the most dominant modified drivers in Ohio this summer, claimed the 12-lap Race of Champions. However, the Ada driver failed to transfer to the main event.

Late models
For Dennis Erb Jr., winning the late model segment of the UMP Nationals seemed easy until Jeep Van Wormer started nipping at his rear bumper in the closing laps of the $5,000 to win main event.
Erb, from Carpentersville, Ill., battled with Richie Hedrick during the opening laps, running side-by-side around the half-mile oval before Erb finally pulled ahead. It seemed Erb would have an easy run until Matt Miller and Jeep VanWormer began working to the front after starting deep in the field.
"To stand up here after winning this thing really caps off the year," said Erb.
It was Erb's first feature victory at Eldora Speedway.
"It means a lot to win here," Erb said. "I've been coming here a long time. We've made the World 100 and the Dream and run good in them. We've finished second and third here in this, but getting a win is tough."
Unlike the modified feature, the main event was slowed twice. One caution came out for a slow car on the track on the 12th lap and again on the 21st lap when Mike Schulte pulled his car to a stop on the front straight with the engine compartment of his car ablaze.
During red flag for Schulte's fire, Erb noticed on the scoreboard that VanWormer and Miller were moving forward.
"So I knew I just had to keep driving hard," said Erb. "We just took off, kept driving as hard as I could through lapped traffic and it worked out."