Wednesday, October 1st, 2008
The power behind Oktoberfest run
Family and friends participate in honor of woman who finished all 29 races
By Margie Wuebker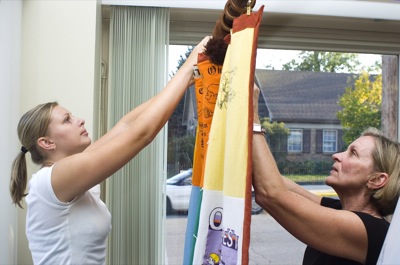 MINSTER - Photos taken at the Oktoberfest Classic 10K Run last year show Pam Winner LaFalce approaching the finish line, her arms raised in victory and her "Cancer Sucks!" T-shirt dotted with sweaty blotches.
People lining the course applaud her efforts as the only runner to participate in all 29 races since its inception in 1979. Others give high fives saluting the Minster native's valiant battle with a formidable opponent - colon cancer that spread to the liver and lungs.
"Pam was an inspiration to all of us," race committee chairman Dorothy Bruns says. "Her dedication to our race and her support of the Minster Athletic Boosters Club through her yearly commitment to run was admirable. She accomplished something no one else has."
Seventy-six relatives, friends and classmates have ordered special shirts for Sunday's race which is expected to draw more than a thousand participants. The shirts, designed by LaFalce's godchild Erin Frilling, feature a large P and the words "Powered by Pam."
Billed as the Pam Fam-A-Thon, the delegation is headed by her husband Peter and includes twins Maggie and Sam and her older sister, Pat Gavit, who predicts she will walk rather than run.
LaFalce remained true to her Minster roots even though she lived in Lexington, Ky., and worked as a manager at IBM/Lexmark. She came home for the last time Aug. 27 to be buried next to her parents (Clarence "Pete" and Clare Winner) at St. Augustine Cemetery.
Described as an outgoing woman with a genuine concern for others, she never missed an Oktoberfest and found the energy to participate in the runs despite formidable obstacles. She gave birth to twins 18 years ago and competed in the race two months later. Running with a splint after breaking her arm proved to be no problem in 2004, and she joined the throng in 2005 while recuperating from surgery and undergoing chemotherapy.
"I've run every year since its inception and will admit this was the hardest one yet," she wrote in an e-mail to family and friends in 2005. "But, I finished in better time than last year so declared a giant victory. My goal is to run every year until I reach my 80s and then have a float in the parade with all my T-shirts."
In January 2007, tests indicated her cancer had returned with a vengeance. The doctor ordered chemotherapy as a means of extending her life a few years but offered no hope of remission.
"When Dr. Pierce asked if I had any questions for him yesterday during my checkup, I had one that I was thinking about but had to make up my mind if it was one I wanted to hear the answer to, and I decided I did because it would define my challenge," she wrote to family in an e-mail. "I asked him how many patients he's had with my condition who have passed the five-year mark. He said none. I told him I planned to be his first. He said that would make him very happy."
She participated in a Relay for Life event in the spring as a means of preparing for the 2007 Oktoberfest run, which was her final race.
The local race committee honored LaFalce's accomplishment by making a donation to the American Cancer Society equaling the amount she paid in race fees over the years. And for the first time in 29 years, she won a door prize.
Her plans were to return this weekend and complete her 30th race. However, illness intervened forcing her to gradually give up the things she loved. Realizing she would miss her goal of seeing the twins graduate, one of her last outings was to talk with their guidance counselor regarding college selections.
Family members knew her dream of riding in the Oktoberfest parade amid a sea of colorful T-shirts would never come to fruition. A sister-in-law clipped pieces from each shirt she received at the Oktoberfest runs and stitched them into a colorful quilt. LaFalce spent her final days admiring the labor of love. The quilt is currently on display at the library in Minster.
"Pam will be here in spirit as we run or walk in her place," Gavit says. "Those of us who loved her - family, friends, runners - know she would never miss a race."