Saturday, October 11th, 2008
Seniors pave the way in Celina's second victory
By Ryan Hines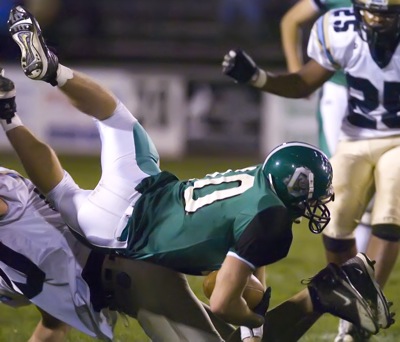 It was fitting that a group of seniors stood out for the Celina football team on Friday night as it was senior night against Lima Bath at Celina Stadium.
The Celina passing game helped erase a halftime deficit with 21 points in the third quarter for a 34-21 victory over Bath in Western Buckeye League play.
It's two wins in a row for Celina (2-6, 2-5 WBL) following a six-game losing streak while Bath falls to (2-6, 1-6 WBL).
Bulldogs head coach Jared Rolfes was happy that the Celina seniors won their final home game of their careers.
"The seniors stepped up and made big plays for us tonight," said Rolfes. "Derek Gagle played out of his mind, Blake Moran had another outstanding game and Dylan Pottkotter had a good night on defense. We had our whole senior class rise to the occasion tonight and step up their play, especially in the second half."
Celina senior quarterback, Derek Gagle, had a career night for the Bulldogs as the lefty completed 19-of-25 passes for 281 yards and four touchdowns while also adding a 17-yard touchdown run as well.
"We got him out of the pocket and he did a good job of reading what the defense was giving him and then delivering the pass," said Rolfes. "The play wasn't always designed to go where it ended up, but he did a good job of creating extra time outside the pocket and finding the open man."
"It was a great night for all of our seniors and I think that it was the type of game that we'll never forget," said Gagle. "It was a total team effort. Our offensive line played its best game I've ever seen them have. We had more plays designed for me to get out of the pocket and we got great blocking from the line and Alex Dues in the backfield to allow our receivers to get down the field."
As usual, WBL receptions leader Blake Moran was Gagle's favorite target as the two seniors connected eight times for 169 yards and two scores. Moran's two scores covered 36 yards for a first-quarter score and 61 yards in the third quarter.
"Our offensive line really came together tonight and allowed all of our receivers to get downfield for some big plays," said Moran. "To have a big night on senior night in our last home game is a good feeling, especially since we've won two in a row now."
Fellow seniors Dylan Link and Caleb Wilson got involved in the Celina aerial attack with a touchdown reception each. Link's was a 19-yard score and Wilson's was a 32-yard TD catch.
"You love to see your seniors step up and make the plays that they are capable of making," said Rolfes.
Bath held a 21-14 lead at halftime, but it was all Celina in the third quarter.
Celina tied the score 45 seconds into the third quarter when Gagle rolled out left, dodged a Bath sack attempt, and heaved a bomb deep to Moran, who caught it at the 10-yard line, broke a tackle and raced for a 61-yard touchdown.
After a couple of punts, Celina's defense stepped up and made a big play to help the Bulldogs' offense.
It was Moran again with a big play as the standout cornerback intercepted a Bath pass at the 50-yard line.
Gagle and Dues rushed five straight plays, totaling 31 yards, to put the ball at the Bath 19-yard line. Gagle then took the snap and rolled to his right before cutting back to his left as Link found an open hole in the end zone for the Bulldogs' go-ahead touchdown for a 28-21 lead.
Again the Celina defense set up a Bulldogs' touchdown as sophomore safety Brad Buxton recovered a Bath fumble at the 34-yard line.
After back-to-back hold penalties on Celina, Gagle hit Moran for a first down before another holding penalty pushed the Bulldogs back to the 36-yard line. Three plays later, Gagle lofted a deep pass into the end zone and Wilson used great concentration to catch the ball for a 32-yard touchdown following a tip on the play by the Bath defensive back, who had solid coverage on Wilson.
"Coach (Mick) Gabes talked to the kids at the beginning of the week about what it means to make a memory on your last home game. Like how you want that snapshot in your head of your final home game for the rest of your life to look," said Rolfes. "Then I kind of gave them the same kind of speech before the game at halftime. I asked them at halftime if they were completely happy with how that snapshot looks right now up to that point. I said if not, go out and do something about it. I challenged them a little bit and they rose to the occasion."
"We talked at halftime that we had the lead, but we had to play four quarters of football to get the win tonight," said Bath head coach Todd Clark. "In the third quarter, their quarterback got loose and their wide receivers got behind our defense for some big plays. Then we were trying to play catch-up after that and it just didn't work out for us."
Bath grabbed the momentum in the second quarter to take a lead into halftime, but the Celina defense stepped up in the second half controlling the line of scrimmage and forcing two Wildcats turnovers in the second-half shutout.
Celina will look to make it three wins in a row on Friday with a road trip to Ottawa to face the O-G Titans.