Monday, October 13th, 2008
Local athletic directors say new state test for coaches will be costly
By William Kincaid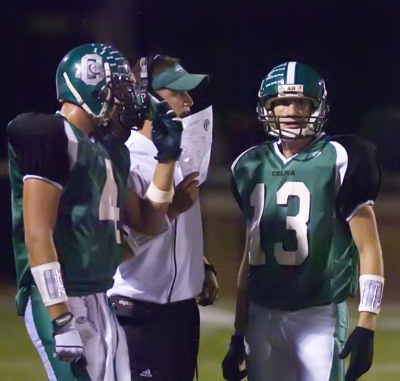 Coldwater schools Athletic Director Eric Goodwin calls a new costly coaching test required by the state "absolutely crazy."
Both Goodwin and New Bremen schools Athletic Director Gary Jones said they don't know how their departments are going to pay for the test, which could cost up to $65 per coach, depending if taken online or with an instructor.
The Ohio High School Athletic Association is requiring all coaches, including volunteers, to take the National Federation of State High School Association's Fundamentals of Coaching Course by 2010, OHSAA assistant commissioner Jerry Snodgrass said.
The test involves training and examination on communication skills, ethics, integrity issues and the usage and impact of social networks such as My Space. It also includes a component about Ohio bylaws, sport regulations and other state requirements, Snodgrass said.
"We're one of the few countries in the world that do not require some kind of formal training," he said about school coaches, pointing out that sometimes the only experience coaching candidates can state is that they played the sport years ago.
Upwards of 60 percent of Ohio coaches are non-educators, he said.
"It gives coaches training on how to deal with kids, communication skills. It's not about the X's and O's of the sports," he said.
All coaches and athletic directors will have to take the test in the next few years, some by Jan. 1, 2010, and others by Aug. 1, 2010. The deadline depends on whether they are under a supplemental contract, a volunteer or full-time staff member. The test has to be completed only once by each coach.
Goodwin said he thinks it's crazy for someone like Coldwater varsity football coach John Reed, who has coached for more than 36 years, to have to take this type of test and pay for it.
When asked about the origin and intention of the test, Snodgrass said the Ohio Interscholastic Athletic Administrators Association requested mandatory education in the format of a test, which already is administered in most other states.
"The board of directors granted that request," Snodgrass said. "The No. 1 factor that is desired from this is to provide an educational tool and provide education for its coaches, which ultimately benefits the 350,000 plus student athletes."
During a recent New Bremen board of education meeting, Jones expressed concern about the cost and time requirements of the test. He said he doesn't know how the school is eventually going to pay for the examination, which he said takes six to eight hours to complete.
"It's going to be hard to find people," Treasurer Deb Meyer said about volunteer coaches.
All coaches already are required to be certified as a coach, pass FBI background checks every three years, take a tuberculosis test and become certified in CPR, Goodwin said.
"At this time the (Coldwater) athletic department pays for coaches' certification. We're going to have to sit down and obviously recrunch some numbers. We have to rethink," Goodwin said.
Each year the department spends an average of $4,000 to $5,000 for coach certification, he said.
Goodwin said he wishes it could have been done with little or no cost to schools.
"There is no question that concern is there," Snodgrass said about the cost. "I think we need to be cognizant of looking at ways to help with that."