Monday, October 13th, 2008
Defiance sweeps WBL team titles
By Gary R. Rasberry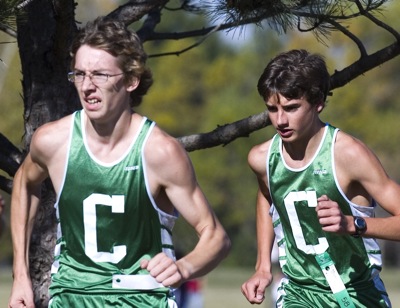 The Celina boys cross country team was hoping the old verse "Be it ever so humble, there's no place like home" rang true on Saturday as the team tried to repeat as Western Buckeye League varsity boys champions on their home course at Wright State University-Lake Campus.
With heavy competition coming from perennial powers Defiance and Van Wert, the key was for the Bulldog Boys to come up with their best.
Celina lived up to its bargain, but Defiance was just a spot ahead, it seemed, allowing Defiance to win its 17th WBL title in a tight 35-42 decision, with third-place Van Wert a distant third with 100 points.
"They're number three (in the Division II state coaches' poll) for a reason," sad Celina coach Dan Otten. "It was them, us, them, us. If everybody beat their guy, it's a 10-point swing. But we ran well."
From the start, Defiance and Celina sent their aces on the breakaway. After a mile, Defiance's Zach Wiles and Trevin Flickinger were posting a moderate lead on Celina's Mitch Williams and Andrew Goodwin.
On the backstretch, Williams got past Flickinger and went into second place, but was unable to catch Wiles, who moved up from his second-place finish last year to win the race in 16:13. Williams was eight seconds behind at 16:21.
"He's got some speed," said Williams of Wiles. "He had a perfect pace the whole race. There wasn't much I could do in catching him. I pushed as hard as I could but could not catch up to him.
"The last two miles, I was picking up a lot, so I could catch (Flickinger). Coming toward the finish about 400 meters go to, I passed him."
Flickinger and Goodwin repeated their finishes from last season, placing third and fourth, respectively.
"Defiance guys started out pretty fast," said Goodwin. "We caught up a little bit. I was surprised they were so far out there."
"For this course, the only one who might have been a little off his pace was Andrew (who ran a 16:47). He said he was a little tired," said Otten. "But the other guys ran as well as they could run. We were just one behind Defiance at every spot."
Defiance caught an advantage as third-runner Sebastian Brown placed two spots ahead of Celina third man Peter Starnes, who finished eighth. Luke Bonvillian placed 11th with Nate Gunter taking 17th and Eric Ballinger taking 21st for Celina.
The St. Marys boys placed ninth in the race with 222 points. Andy Durkee was the first Roughrider to cross the finish line in taking 33rd with Sean Barnett taking 37.
In the girls varsity race, Celina rebounded from a sluggish start to the season to take fourth place with 115 points, 11 points ahead of fifth-place St. Marys.
"O-G was seven points ahead. If we would have run great, we may have maybe nipped them," said Otten. "Fourth is great. Early in the year, I thought we would be eighth or ninth. They've come a long way."
Defiance made it a sweep of the WBL varsity titles, edging Van Wert 41-46 in a classic battle. Megan Vogelsong paced Defiance by winning the race in 19:33, 20 seconds ahead of Van Wert's Lauren Taylor.
Celina was led by Marissa Gibbons, who was 15th. Claire Schmitmeyer was 16th with Lydia Burchhardt taking 25th and Micah Engle placing 26th.
St. Marys got a first-team All-WBL selection - top 12 finish - from Kristi Steva, who placed ninth.
In the junior varsity events, Van Wert's girls and Defiance's boys took the titles. The St. Marys girls placed third while Celina did not field a full girls team.
St. Marys' Jessica Jeffries was the top local finisher in the jayvee girls race, placing ninth. Jamie Owens paced Celina with a 13th-place finish.
The Celina JV boys placed third with St. Marys not fielding a full team. Celina's Nick Siebert finished third in the jayvee race with teammate Chris Nusbaum sixth.
Shawnee swept the middle/junior high races. Celina placed sixth in the boys junior high race and fourth in the girls, while St. Marys McBroom was runner-up in the girls and seventh in the boys.
Top finisher for Celina in the middle school boys race was Cole Mertz in 18th while Nick Durkee paced McBroom with a sixth-place finish.
McBroom's Kayla Boysell was sixth and Marissa Schrolucke was seventh in the girls race, while Paige Dorsten paced Celina with a 14th-place finish.