Tuesday, October 21st, 2008
Celina wins battle of evenly-matched teams
By Gary R. Rasberry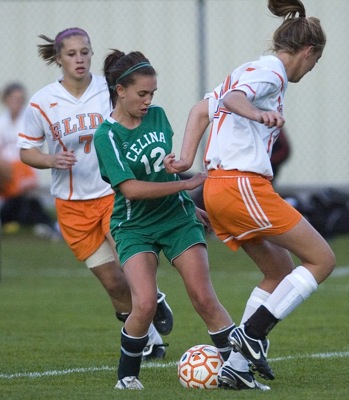 FINDLAY - For the fans that missed their first meeting in September, the second matchup between the Celina and Elida girls soccer teams was as good - if not better - than the first.
Celina recovered from giving up an early first-half goal, scored with just 24 minutes left in the game to square things up, then got a big rebound goal from freshman Lexi Mills in the first sudden-death overtime to beat Elida 2-1 at the Division I sectional at Graham Soccer Stadium in Findlay.
The Green and White Bulldogs (13-2-3) will play top-seeded Findlay at 5 p.m. on Wednesday for a berth in the district title game Saturday at Lexington. The Trojans bested Defiance 4-1 in Monday's nightcap.
Celina won the first meeting over Elida in September 1-0, which Celina coach Calvin Freeman said afterward "Somebody that didn't come to tonight's game missed a nice, hard-fought ballgame."
"As far as teams that match up, I think Elida and Celina, personnel-wise match up," said Freeman on Monday evening. "It's proven both times. The first time in the WBL, it was this type of match. Came right back in tournament, here we go again.
"The battle was in the midfield from the 18 (yard box) to the 18 all night long. Back and forth, back and forth. If you like soccer, once again, this was the game to come to."
Monday in Findlay was no different as both teams played an aggressive game and came up with big plays to keep each other out of their nets.
Elida drew first blood shortly after Celina lost defensive ace Paige Bigham to an injury that kept her out of the rest of the match. With just under 15 minutes left in the half, Shelby Troyer booted a pass to Erin Thomas, who caught Celina keeper Elizabeth Laffin out too far from the goal, kicking it to Laffin's right and into the net with 14:52 left to make it 1-0 at the half.
"Girls get concerned with an injury on the field. Obviously (Bigham) was in a lot of pain," said Freeman. "...Their hearts and minds are with the injured player. (Elida) took advantage of it. She had an opportunity and she made a nice shot."
"I was kind of surprised we scored as early as we did," said Elida coach Matt Albright. "They lost their one defender, which helped us out. When she went out, she was their leader, that kind of opened things up."
Elida looked poised to play keep-away in the second half, but Celina found an opening in the Elida defense. Senior Courtney McKirnan drove in on the Elida defense and put the ball past keeper Kaitlyn Morrisey with 24:17 left in regulation to tie the game up.
Both teams had chances to get the game-winner in regulation. Elida had a flurry in front of the goal in the final two minutes, but Laffin and the defense kept the ball out to force the first of potentially two 15-minute overtimes, with the first goal ending the match.
The matchup stayed even as the clock wound down to three minutes left to play in the overtime. Finally, Celina got a breakthrough as McKirnan fired a perfect pass to Cayla Hellwarth, who drove in and fired on Morrisey. Morrisey made a terrific deflection save, but Mills, one of five freshmen Freeman uses regularly in matches, was on the spot to kick the rebound into the back of the net with 3:05 left in the overtime to end the match.
"Cayla drove in and they made an outstanding save," said Freeman. "The only thing (Morrisey) could do is get a hand on it and she did. It bounced back and Lexi was able to put it away for us.
"Elida has to be proud of how they played," said Freeman. "They played very well. They gave us everything we wanted to deal with. We were fortunate."
"Just a hard WBL match," said Albright. "Cal and I talked at the beginning and we knew this was going to be a close one and it could go down into overtime.
"We always play them tough. They always play us tough."