Wednesday, October 22nd, 2008
Marion Local avenges loss to New Bremen
By Randy Bruns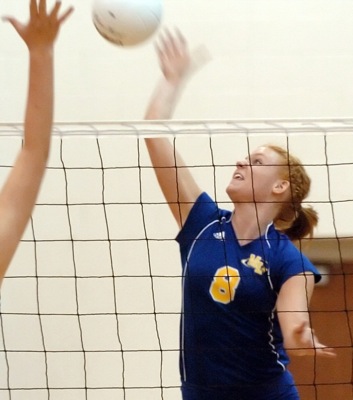 NEW BREMEN - The old adage that it's tough to beat a good team twice is probably a bit overused, but it was proven correct Tuesday night at Cardinal Gymnasium.
The Marion Local Flyers got the best of the New Bremen Cardinals in an epic five-game district semifinal match two weeks to the day after the Cardinals broke a tie for the Midwest Athletic Conference crown with another five-gamer over the Flyers.
Marion played splendid defense the whole night through and rode the heavy hitting of sophomore Alyssa Winner to come away with the win by scores of 26-24, 26-28, 25-5, 23-25, and 15-11.
The Flyers, now 21-3 on the year, advance to the district finals against Crestview (18-6), which defeated Delphos St. John's on Tuesday. The match will be on Saturday at Coldwater and will start at 3 p.m.
The first game between these two MAC heavyweights was the perfect harbinger of things to come, as the score was tied 11 times and neither team could build a lead larger than four points. That advantage belonged to the Flyers at 21-17 and a little while later, it looked like the Blue and Gold would win without too much drama when a kill by Winner brought them to game point at 24-22.
The Cardinals had other ideas, though, as Jackie Dabbelt smashed a kill and Taylor Jones followed with two more to force extra points. Marion's Leah Rosenbeck quickly gave her squad the lead back after attacking an errant pass, and Jessica Schwieterman finished the game with an ace.
The second game provided even more drama, but for a long while, it sure didn't look that way. Marion barged out to a 10-4 lead and later built the bulge to eight at 16-8 before a Dabbelt kill brought Becca Dwenger to the service line. The senior setter's topspin serve absolutely befuddled the Marion back row, and though only two of the serves went for aces, few were successfully passed to the front row. By the time Dwenger was finished, New Bremen had reeled off 10 straight points to take an 18-16 lead. To its credit, Marion didn't fold and staved off three game points, but Dabbelt and Jones finally strung together kills to win the game and even the match.
To use a statistics term, the third game was an outlier, as it was so different from the rest of the games that it just didn't seem to fit. The Flyers took an early 8-2 lead, but unlike the second game when the Cardinals came roaring back, nothing changed the rest of the way in this one. Winner's fingerprints were all over the blowout, as the sophomore banged consecutive kills on sets from hitter Casey Heitkamp and later served up 12 straight winners from the service line. A kill by Ashley Lochtefeld finally - and mercifully - ended the game with the Flyers on top 25-5.
Things returned to normal in the fourth game with both squads swinging away in an outstanding display of volleyball. The game was tied nine times, but even more impressive was the fact that neither team led by more than three points at any point. The Flyers held their last "big" lead at 19-16, but a kill by Stacy Timmerman and three straight winners by Amy Elking gave the Cardinals a one-point advantage. The game was tight as a corset the rest of the way before a tip by Dabbelt put the Cardinals up 24-23 and a push by Heitkamp fell out of bounds to once again knot up the match.
Marion jumped out to an important early lead in the finale, with Alyse Bergman starting the game with five straight service winners. As most in attendance knew they would, though, New Bremen clawed its way back and pulled within two at 10-8. Marion's Kaylee Schaefer then found a vacant spot on the floor for a kill, and Winner executed a perfect roll shot and followed with a scoring tip to give her team a 13-8 advantage. New Bremen countered with three straight points, but Schaefer stuffed a kill attempt and Winner sent the Marion side into hysterics with her final kill of the match.
"It was a great battle tonight, and it was fitting that it went five games just like in the regular season," gushed an emotional Marion coach Amy Steininger. "I thought our girls really played more aggressively in the fifth game tonight than they did in the regular-season match. I was a little disappointed we didn't win that fourth game, but I told the girls it was fitting because we lost our first three five-game matches this year, but now we've won three in a row."
New Bremen coach Lisa Thobe thought her squad looked out of sync most of the night, but she also thought Marion's play had something to do with that.
"Marion had how many defensive screw-ups? Probably none," asked and answered Thobe. "We moved the ball around but they seemed to be wherever we put the ball. We got out of kilter and didn't know what to do because we felt like we moving it around on them. It's tough to tell them what to do and where to go when they're doing what you tell them, but (the ball) still isn't hitting the floor."
The hitters on both squads had big nights. Dabbelt and Jones each registered 18 kills for the Cardinals, while Rosenbeck had 15 for the Flyers. Winner blew past the old school record of 23 kills in a match with a mind-boggling 32 floor-finders.
"Alyssa was amazing tonight," noted Steininger. "They knew where we were going, but we do drills like that in practice with her going up against a big double block. I tell her she has to find a way to get a kill, and she did that tonight."