Thursday, October 23rd, 2008
By Gary R. Rasberry
Celina girls leap a big hurdle
Bulldogs get past Findlay to make district finals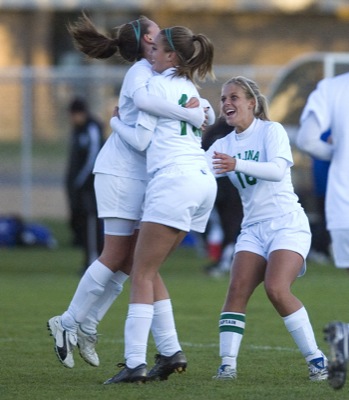 FINDLAY - It seems the last few years, the Celina girls soccer team has hit a brick wall called Findlay when it came to the tournament.
Not only have the Trojans played spoiler to the Bulldogs in five of the past six postseasons (2002, 2003, 2004, 2005, 2007), the Bulldogs have had to make the hour-plus trek to Graham Memorial Soccer Stadium in Findlay to see their season end.
Wednesday, it was another Findlay-Celina matchup with a trip to the Division I district finals on the line.
This time, though, the Bulldogs were packing a wrecking ball.
Celina scored with less than five minutes left in the first half to tie the game, then added two goals in the second half, including one long-distance shot with less than four minutes to ice the match, en route to a 3-1 win over the Trojans in the district semifinals.
The Bulldogs (13-2-3) advance to their first district title game since 2001 on Saturday at 6 p.m. at Lexington, where they'll face the 12-5-2 Lexington Lady Lex (12-5-2), who beat Madison Comprehensive 4-0 on Tuesday night to advance.
"Oh my!" said Celina coach Calvin Freeman. "Every year, it seems like we come up here. What can you say, Findlay is an outstanding team. They prove it every time they come out on the field.
"I'm just so proud of our girls. We lost two starters right off the bat and we had some other girls step up and play very well. I'm just so pleased with that."
Celina, already playing without standout defender Paige Bigham, who was hurt in Monday's match, suffered another blow when senior Courtney McKirnan was lost to an injury 10 minutes into play. The Trojans, who beat Celina 3-1 in the season lidlifter, took advantage on the loss, as Libby Spragg scored one on Elizabeth Laffin at the 23:45 mark.
"Courtney's our stopper. Since we put her there, she just made a world of difference in getting things going," said Freeman. "She played defense, obviously, but she's the beginning of our offense. ... When she went down in the first 10 minutes, it was a big blow."
But that would be all the scoring for Findlay. The Trojans would try seven more shots on the evening, but were never able to find the back of the net.
"We had girls play (McKirnan's) position and rotated girls in," said Freeman. "They stepped up and took the role. They played outstanding. I'm so proud of them."
The Bulldogs ramped up the offensive pressure to try and get the equalizer. Finally with the clock nearing the five-minute mark of the first half, Cayla Hellwarth took a crossing pass from Shelbi Nation, dribbled in and fired a perfect shot that hooked away from Trojan keeper Shannon Mills and into the net with 4:59 left in the half.
"(She) put the bend on the ball and put it in the goal," said Freeman. "That was a big boost for us."
Celina kept up the pressure to start the second half, putting Findlay's defense on the defensive. With just over 28 1/2 minutes left in the match, Celina got the ball back into the Findlay goal box. A scramble for the ball ensued, where Mackenzie Rutschilling was at the right place at the perfect time, putting the ball past Mills with 28:26 to go to give Celina the lead.
"She stuck with it, played real hard," said Freeman of the sophomore. "We kept saying 'You have to battle.' She did and she never gave up on the ball and was able to put it in."
Findlay tried to pick up the offense, but Celina's trademark defense held firm as Laffin had to make one save in the second half.
Celina fans could finally take a break with the clock under four minutes as Emily Pottkotter, standing nearly 30 yards away from the goal, booted a laser shot past Mills, giving Celina a 3-1 lead and allowing Freeman, who admitted later, a chance to breathe.
"I can honestly say, I began to breathe again," said Freeman with a laugh.
Now Celina heads to a level that the current crop of players have not reached.
"(After losing to St. Marys earlier in the season), we decided to set goals for ourselves," said Freeman. "One of the goals was to make it through tournament. We knew it would be tough because of Findlay, and we faced them before and knew they were an excellent team, and we were going to face them again. That was our goal: to come here to play and win, which we did. When you achieve your goal, you just feel great."
Additional online stories for this date
Print and E-Edition only stories for this date
• Mortgage crisis hits close to home
• Funding slashed for transportation to aid local needy
• Incumbent seeks accountability; challenger wants to end Iraq war
• Celina Eastview Park may get new restroom
• Fire chiefs say don't open burn
• Referendum sign stolen
• History repeating itself for the Roughrider girls
• Drama still high with one game left to play
• Celina football has plenty to play for against Defiance
• Impact Game of the Week:
• Bits and Pieces...



Photo Albums
Thursday, March 23

Wednesday, March 22

Saturday, March 18

Wednesday, March 15


Online Video
Saturday, February 4