Friday, October 3rd, 2008
Wildcats sweep CC team titles
By Mark Ruschau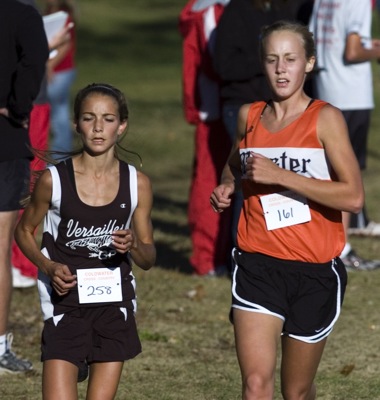 COLDWATER - The ongoing drama that is the local cross country season continued Thursday afternoon as 26 teams gathered at Memorial Park and Cavalier Stadium for the 2008 Gene Weber Memorial Lions Invitational.
The day was highlighted by a much-anticipated boys race. Going in, as many as nine teams had a shot at the team title and the race did not disappoint as Minster won the title with 86 points.
New Bremen was second with 96, St. Henry was third with 135, Van Wert was fourth with 135 and Lehman rounded out the top five with 145. Coldwater was sixth with 153.
"We had a lot of secondary runners, our second, third and fourth runners really came through for us today," said Minster coach Larry Topp. "We even had some boys behind our top four run well and we really had to have that today because we had one of our top five runners go down with injury today. Instead of collapsing, we were able to step up. When you have someone go down, you hope you have the other guys step up and grab the bull by the horns and it appears that is what we did."
As for the runner-up Cardinals, coach Adam Topp is looking for depth as he saw his first four runners finish in the top 22, only to have the fifth runner place 42nd which was 10 spots behind the fifth Minster runner.
"We had a pretty good night overall," said Adam Topp. "Our top four runners ran well, we just have to tighten up our fifth runner. Our number-five runner fell off the pace today, but we had a good overall day, saw some great things."
Doug Ranly of St. Henry won the individual title with a time of 16:36.2, which was over seven seconds faster than runner-up Justin Eilerman of New Bremen.
"Doug Ranly's performance speaks for itself. He has been running strong all year," said St. Henry coach Mike Eyink. "As for the team, our third-place finish was a pleasant surprise. We are still improving and I am tickled to death to compete against teams like Minster and New Bremen. We are looking forward to the next couple of weeks, we are ready to roll."
On the girls side, the Minster Wildcats placed four runners in the top 10 to win the team championship with 30 points. Versailles, running without standout Mary Prakel, placed second with 68 points, southwest regional rival Fort Loramie was third with 102. Coldwater placed fourth with 104 and Van Wert rounded out the top five with 140. Fort Recovery, Marion Local, Celina and St. Henry placed in the top 11 at sixth, eighth, 10th and 11th, respectively.
Tammy Berger of Versailles blistered the field with a time of 18:55, which was six seconds faster than then runner-up Jessica Albers of Minster. Lei Bornhorst of Minster was third, teammate Maria Dahlinghaus was fifth and fellow Wildcats Samantha Hoelscher and Kayla Albers were ninth and 11th.
"The girls ran well on a beautiful day to run," said Minster coach Jessie Magoto. "I was really happy with the way we ran, some of them had good times, not amazing times, but that is ok for right now, I would rather have solid times right now. I was very pleased, we had four girls in the 19s, I thought with the large field we only scored 30 points, we were really able to pack it in. We are running pretty strong at this point in the season."
For the runner-up Versailles, it was able to bunch its other four runners in the top 25 as Taylor Huffman was 13th, Jacquie Moorman was 14th, Natalie Grilliot was 15th and Margaret Prakel was placed 25th.
"Tammy Berger is the fastest girl that I have ever had," said Versailles coach Mark Pleiman. "What a time from a great kid. She had a great strategy, knew what we wanted to do, it was just fantastic. Taylor Huffman our number two today had never finished that high. That was just great and really helped out the team.
"We ran a very good race today as a team," continued Pleiman. "Mary Prakel did not run for us today, she has had some leg issues, we did well today and we are looking forward to the league race next week, between us and Minster, it should be exciting."