Thursday, October 30th, 2008
Nick's new wheels
Celina police K-9, officer get new patrol car
By Shelley Grieshop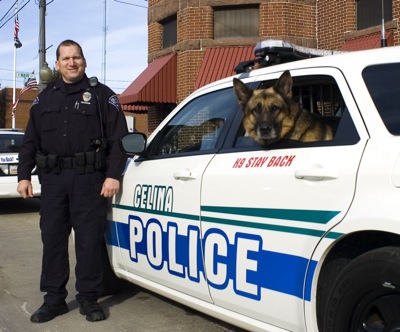 Nick's drooling over his brand new set of wheels.
The Celina Police Department K-9 appears to like the 2008 Dodge Magnum that he and his handler, Patrolman Dan Hartings, will be using from now on thanks to the generosity of several area organizations.
The station wagon was purchased locally at a discounted price of $19,000 by four Celina organizations - the Moose Lodge, the American Legion, Veterans of Foreign Wars and Fraternal Order of Eagles - who donated it to the police department.
Police Chief Dave Slusser said he had approached one of the local clubs earlier this year about helping to pay for the Magnum but never dreamed they'd offer to pick up the whole tab.
"We are very, very appreciative," he said, adding city officials also have expressed their gratitude.
The vehicle arrived at the department on Monday and is equipped with $2,500 to $3,000 worth of accessories including modifications to accommodate Nick. The rear of the station wagon bears a fitting statement: "Looking to take a bite out of crime."
The all-white Magnum has a state-of-the-art camera in the front seat that records activity outside the vehicle and a portion of the backseat where suspects will ride.
A metal wall in the backseat separates an arrest suspect from the paws of Nick; a Plexiglas window soon will be installed so the dog can eye a backseat passenger, and vice versa, Slusser said.
Among its other features, the Magnum has a $1,400 "boomerang" design light bar on top that is more easily seen by motorists and pedestrians from different angles. The vehicle also sports a metal "push bumper" on the front grill where more lights and a siren speaker is located.
The used vehicle has 4,000 miles on it and replaces the former K-9 unit cruiser that developed a cracked block this summer, Slusser explained. It had more than 100,000 miles on its odometer.
The high-tech gear in the car doesn't seem to impress Officer Nick. But there is one feature he's taking full advantage of: the hole between the front and backseat that allots him a frequent scratch behind the ears from his partner.