Thursday, October 30th, 2008
Marion Local dominates Tiffin Calvert
By Randy Bruns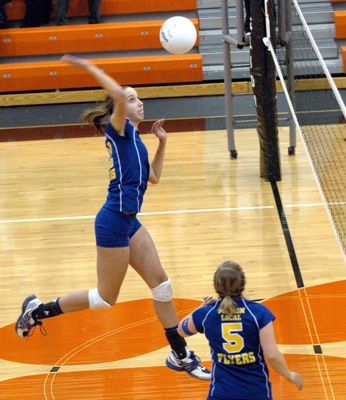 ELIDA - The Marion Local Flyers opened regional tournament play with a dominating three-game win over the Tiffin Calvert Senecas on Wednesday night at the Elida Fieldhouse.
The Flyers' defense didn't let many balls hit the floor and the offense once again was powered by sophomore hitter Alyssa Winner as the Flyers made quick work of the Senecas by identical scores of 25-12, 25-12, and 25-12.
Marion, now 23-3 on the year, now faces the Leipsic Vikings (24-2) in Saturday's regional final which starts at 2 p.m. A win over Leipsic would earn Marion its second straight trip to the Ervin J. Nutter Center for next week's state semifinals. The Vikings advanced to the regional finals with a three-game thrashing of Pettisville in Wednesday's first game.
Things were tight early on in the first game, but a kill by Winner gave the Flyers a 5-4 lead and the sophomore quickly added to it with five straight service points that were bookended with aces. A pair of Flyer kill attempts into the net brought the Senecas back within four, but Winner later smacked three straight kills to give her team a 10-point lead that was never threatened the rest of the way.
The second game saw the Flyers dominate from the get-go when Tara Hartings served up six consecutive winners to give her team a 9-2 advantage. The Senecas regrouped and pretty much went point-for-point with the Flyers, but the next time Hartings went to the service line the diminutive senior racked up four more points to give the Blue and Gold a commanding 22-8 edge. Ashley Lochtefeld finally put an end to things when she tallied her second kill of the game.
Calvert came out charged up in the third game and took a 5-3 lead, but Marion kept swinging away and finally took a 10-7 advantage after three straight knocks by Leah Rosenbeck. The junior later served up five straight winners to give Marion a 16-8 advantage, and Calvert errors provided most of the rest of the points, with a service error finally giving Marion the match.
"We're very pleased with how we came out and played tonight," said Marion coach Amy Steininger. "I was a little bit concerned with our youth, but this was our fourth tournament game and the girls were ready to play tonight. We missed too many serves tonight but our defense played very well. We picked up a lot of balls and Jessica Schwieterman did a nice job in the back row."
Calvert coach Pam Hart pointed to her team's ineffective service reception as the culprit to the Senacas' offensive woes.
"The offense is going to come from the defense, and our serve receive struggled a lot tonight," said Hart. "We just couldn't seem to get an accurate pass and our setter was running all over the floor. It's a very big stage being here and it's all very new to us all, myself included. (Marion) seems to be here every year and they know what to expect. They're a great team and they played very well tonight."
As she has been all year, Winner was the main weapon for the Flyers by slamming a match-high 21 kills.
"Alyssa was on fire tonight and she did a great job swinging outside for us," said Steininger. "We were able to feed her the ball a lot because our passes were right there. She's a very smart hitter and can see the block really well - she saw that there were some tips open tonight and she took advantage of it."
One big match now stands between the Flyers and "the Nut", but Steininger knows that Leipsic will provide a literally huge challenge.
"Leipsic's a great team - we watched them play tonight for the first time and we saw them a little bit this summer," said Steininger. "They've got a tall girl in the middle that is six-foot-three and they have a nice outside hitter as well, so we're going to have our hands full."
TICKET INFO - Tickets for Saturday's regional final will be sold as follows: today from 6-7 p.m. at the High School office. Friday from 11:45 a.m. to 12:30 p.m. at the Middle School and 12:30-3 p.m. at the Athletic office. Saturday from 9-10 a.m. at the High School office.