Friday, October 31st, 2008
A trip with a purpose
Rockford man walking barefoot cross country to pitch educational program
By William Kincaid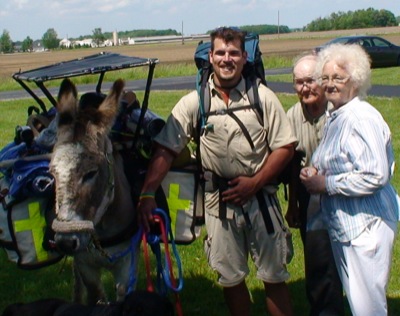 Thirty-year-old Eric Sheets left Rockford on Memorial Day weekend, intent on walking two thousand miles barefoot to Seattle, Washington.
The ultimate aim of the unusual journey of Sheets' and his entourage, which includes a 14-year-old donkey equipped with solar panels and a stray coon dog, is to make a proposal on an multi-age educational tool to Microsoft founder Bill Gates.
Sheets, a former college football player, chemist, fumigator and home-builder, is a self-proclaimed dreamer with a passion for progressive education.
He said he envisions an interactive, touch-screen TV that would maintain biographical information, personal interests and cognitive abilities for everyone, from crawling children to senior citizens.
It would test children with basic concepts such as the alphabet while they watch Sesame Street and chart their advancement.
"Basically, it would continue to grow with you," he said.
He said his concept applies to the average Joe watching the History Channel. While, for example, watching a program about the War of 1812, additional facts and information - based on the person's interests - would appear on the screen.
Such innovation could be used when children first enter school. He said it could eliminate the redundancy of learning what a child already knows, leading to more challenging material.
"Too many kids are not being challenged," he said, pointing out schools still use text-books, an outdated method of learning used for the last 200 years.
It also could enhance adult learning, he said.
Though the technology for such an endeavor exists and is cost-effective, Sheets said it is too immense and futuristic for one man to pursue. He hopes to get help from Gates.
To create a national buzz to attract as much human and media attention as possible, Shields decided to walk across the country bare-foot with companion Buck, the black-and-tan coon dog that showed up unexpectedly at a buddy's house in Rockford.
Walking barefoot also symbolizes the slow, painful and outdated education system in the U.S., he said.
Realizing his heavy load of gear, including a tent, clothes and digital equipment, was too much to carry, he went to an auction with local-exotic animal connoisseur Don Barber.
For $85, he purchased Mosses, a 14-year-old, retired petting zoo donkey to help carry the load.
Mosses - the furry load-bearer - was harnessed with solar panels to power Sheet's computer, cell-phone and digital camera.
The three left Rockford with no travel plan and $30, heading west through backroads, fields and secondary highways. Sheets said the trio avoids interstates.
At a lumbering pace of around 15 miles a day, the three alternate between bivouacs and short-sojourns at the homes of those they meet along the road.
"This guy is amazing," Sheets said about Mosses, pointing out he had no idea what a barrier-breaker the animal would be when meeting strangers.
"We are in the grace of the Lord," Sheets said when asked how they survive. "Never once have I asked anybody for anything."
Sheets said people with kind words, good conversation and thoughtful acts come to him every day.
That doesn't mean Sheets doesn't have some explaining to do when law enforcement officers ask what the hell he's doing walking around with a donkey. Once he explains his mission, and officers pull up his Web site, they are often supportive, he said.
However, the weather is taking its toll on Sheet's feet, and he is worried about the possibility of frost-bite and other weather-related ailments.
So far, Sheets said he has been featured in at least 35 newspapers, seven TV news programs and PBS.
"It was pretty surreal watching me walk that donkey on TV," he said about the PBS broadcast, a copy of which was given to him.
At their current rate, Sheets doesn't think they will reach Seattle until at least next summer.
Sheets' adventures are chronicled online - with multitudes of pictures of new friends and passersby - at milesofsmilesforever.com.