Friday, October 31st, 2008
Redskins lose one, win three straight
By Ryan Hines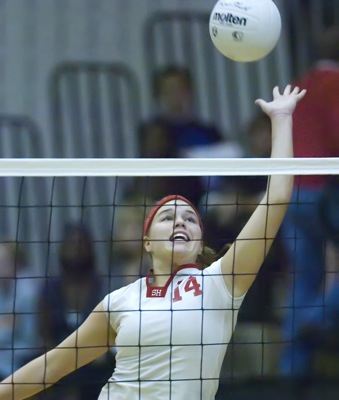 FINDLAY - It took the St. Henry volleyball team a little time to hit its groove, but once it did, it was all Redskins from that point on.
St. Henry lost to Huron 28-26 in game one, but the Redskins dominated play in the final three games to win the Division III regional semifinal match over the Tigers at Liberty-Benton High School on Thursday. The Redskins won the final three games, 25-15, 25-17 and 25-16.
The Redskins (16-10) now meet Division III defending state champion Lima Central Catholic (24-1) on Saturday at 1 p.m. for a berth in the state tournament. The Thunderbirds defeated Heath in four games in Thursday's nightcap at Liberty-Benton.
St. Henry, winner of its last 14 matches, last made an appearance at state in 2004, which ended with the Redskins' sixth volleyball state championship.
If the Redskins are able to carry the momentum of the last three games versus Huron into Saturday, the Redskins could find themselves at the Ervin J. Nutter Center on the campus of Wright State University next week.
"I think that we played tight in the first game, trying not to make mistakes, and instead they accumulated on us. Once we got some momentum and got into our groove we were able to make some good plays the rest of the way," said St. Henry head coach Lori Schwieterman.
"We got a lot of hands on their hits tonight and did a good job of reading what they were trying to do on offense," said St. Henry senior Brooke Mattingly.
St. Henry certainly wasn't in a groove during game one. Huron had a six-point lead early, but scrappy play by St. Henry kept the score close late.
St. Henry's unforced errors along with a strong hitting attack by Huron's Jesse Miedema helped allow the Tigers to win game one 28-26. The Redskins committed 13 errors in game one while Miedema hammered home six kills, including three of Huron's last four points.
"I think that the first game was a fun one to be a part of for both teams," said Huron head coach Don Wood. "They made quite a few hitting errors in that first game and then we were able to make enough plays to win that first one. We just didn't do enough of the things that we needed to do in the final three games to get a win tonight."
St. Henry only managed one stuff block in game one, but it was the Redskins' play at the net that was the difference in the final three games.
Mattingly had 15 kills to go along with 15 total blocks while Chelsea Stammen added 11 blocks in the match.
"Chelsea stepped up big on the right side and then Katie (Hoying) also did a great job along with Brooke in the middle," said Schwieterman. "We stepped up our defense a lot and that was the difference."
Stammen and Mattingly had back-to-back stuff blocks for points to open game two and St. Henry was off and rolling the rest of the way.
St. Henry led 9-3 to force the first Huron timeout and then held a 16-8 advantage following the Tigers' second timeout. The Redskins had as large as an 11-point lead before settling for a 25-15 win to even the match at a game apiece.
Game three was tied at 12-12, but St. Henry's Janelle Gerlach had three service winners to push the Redskins out in front 16-12. Following a Huron point, St. Henry then won eight straight points off Kenzie Bruggeman's serve for a comfortable 24-13 lead. Stammen had a couple of blocks and Mattingly and Shelby Buschur had a kill and a block apiece to spark the spurt. On the fifth try at game point, Buschur blasted a kill for a 25-17 win.
Mattingly gave St. Henry a quick 7-2 lead in game four with two kills and two blocks leading to a Huron timeout. Huron never got closer than three points the rest of the way as a raucous St. Henry crowd helped carry the Redskins into the regional finals.
"We had some bad plays in the first game, but we focused on playing as a team the rest of the way and it made a difference for us," said Buschur.
TICKET INFO - Tickets for St. Henry's regional final contest against LCC will be sold at St. Henry High School on Friday and Gels IGA will be selling tickets on Friday and until 9:45 a.m. on Saturday. Presale tickets are $6 and all tickets at the door are $8. St. Henry receives a portion of the presale.