Thursday, October 9th, 2008
Wildcats have their sights set on a state title
By Gary R. Rasberry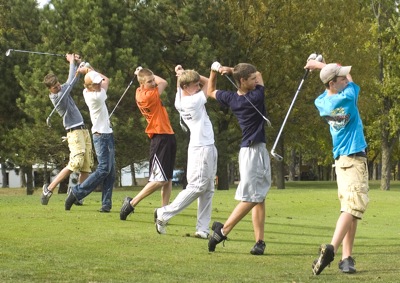 MINSTER - Much like track and cross country, Minster High School is building a strong tradition in golf.
The boys golf team, after a one-year absence, makes it back to the Division III state tournament this week at The Players Club at Foxfire Golf Club in Lockbourne.
The Minster quintet of Ben Hogenkamp, Craig Purpus, Adam Sherman, Matt Borchers and Austin Fischer, along with alternate Sam Phlipot, will look to make a mark on the leaderboard this week. The last two state appearances have been successful ones for the Wildcats, finishing fourth at Foxfire in 2005 before coming back and earning the state-runner up trophy in 2006 at the Gray Course at Ohio State.
"We weren't able to hold that (tradition) up last year," said sophomore Ben Hogenkamp, winner of the Midwest Athletic Conference tournament. "We missed state by three shots last year, but we were able to come back this year with a solid team. It feels good."
Borchers, the lone senior of the group, is ready to get back and hold up, not only the program tradition, but keep family tradition going.
"My sister (Michelle) and brother (Brad, who was part of the 2006 state runner-up team) got to go (to state). I just wanted to follow in their footsteps and be able to play there and show where we come from," said Matt Borchers before a practice earlier this week. "They're encouraging me to have fun and do well."
The Wildcats have been on a tear all season, dominating the early invitationals and blazing through the MAC season with a 9-0 record, then winning the MAC tournament to take the overall conference championship.
"We started off well. Came out hot and played real good golf," said Borchers. "We slowed down a bit, but were able to go through the MAC unbeaten. We had tough competition with St. Henry and St. John's."
Fischer, the lone freshman of the group, is ready to go.
"It's a good opportunity. My teammates have been helping me out all year," said Fischer, who will tee off first for the Wildcats as the number-five golfer. "They've been keeping me from getting nervous. I'm ready. Hopefully I show up and play well."
Minster already has a team in its sights to beat at state: Lima Central Catholic. The perennial Division III power has just edged Minster at both the sectional and district. At sectionals, Minster shot a blistering 305, only to have LCC shoot a 298 at Hawthorne Hills to win the sectional. At districts, Minster's 324 at Stone Ridge was topped by the Thunderbirds' 314.
"We haven't beat LCC anywhere else," said Hogenkamp. "One of our main points going to state is trying to get past LCC. Maybe not the first day, but definitely the second day."
"They edged us a couple of times this year," said Borchers. "But I think we're able to get them at state if we play our game and try not to beat them the first day."
One area where Minster might have a leg up is familiarity of the course. The Wildcats have made several trips to Lockbourne to play the TPC course and will play a practice round today before teeing up for competition on Friday.
"We played a lot of practice rounds this year. We actually know the course probably better than any other team out there," said Hogenkamp. "So we have a lot of confidence going down there."
"I'm excited," said Fischer. "Can't wait to go down there."
In addition to the Minster squad, Versailles' Wes Drees and St. John's representative Brad Wannemacher, the MAC Golfer of the Year, will compete at Foxfire.
Directions to Foxfire: To get to Foxfire Golf Course, Take US 33 east to I-270 south. Take 270 to I-71 south. Take 71 to Exit 97 (London-Groveport Road-Ohio 665) and turn left onto London-Groveport Road and follow three miles and turn right onto Ohio 104. Foxfire Golf Club is three miles down on the right side.

Friday's tee times:
From No. 1
9:40 a.m. Brad Wannemacher (St. John's)
9:48 a.m. Wes Drees
(Versailles)
From No. 10
Minster tee times
9:56 a.m. Austin Fischer
10:04 a.m. Matt Borchers
10:12 a.m. Adam Sherman
10:20 a.m. Craig Purpus
10:28 a.m. Ben Hogenkamp