Saturday, November 1st, 2008
Jewels sparkles again
Dog beaten by owner's former boyfriend doing much better
By Janie Southard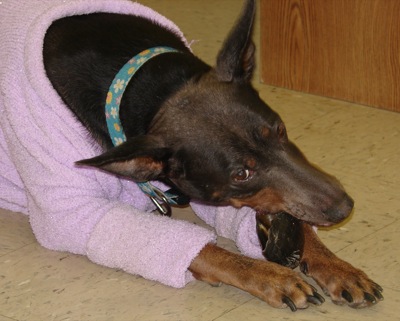 WAPAKONETA - Well, she's just lovely in her lavender sweater and offers a heartfelt welcome to anyone who comes in. She carries her cow hoof over for their inspection. But, it's look, don't touch. And she whisks it quickly back to her well-appointed cage for safe keeping.
She is Jewels, the 10-year-old Doberman mix who was beaten with an aluminum ball bat on Sept. 8 by her owner's ex-boyfriend, who is in the second month of his 180-day jail term.
"Oh she greets everybody who comes in the door and she loves kids especially babies ... I just can't see her hurting anyone. She's even okay with this puppy," Auglaize County Animal Shelter Manager Laura Jones said Friday morning.
"This puppy" is a frisky little spotted guy with a whole lot of zip and a mommy-complex for Jewels.
When the sheriff's deputy originally took the injured animal to the animal shelter, she was in a struggle for her life due to the massive head injuries inflicted by Adam J. Heckman, who was intoxicated at the time of the beating.
Caretakers at the shelter had problems getting Jewels to take her meds. Finally the shelter staff hid the meds in cheeseburgers and the dog gobbled it up, which was reported in an earlier newspaper article. Thus began the hundreds of cheeseburgers and cheeseburger coupons that flooded the shelter.
"We long ago lost count of cheeseburgers and, actually, Jewels is not overly interested in them anymore," Jones said, adding that the dog is now on a more regimented diet due to some stomach upsets with the people food. "But she does love those calf's hoofs and the rawhides someone donated."
After the initial intense medical treatment by the shelter's veterinarian, Jewels has not needed further treatment other than check-ups. The hair around her head injuries is even growing back thanks to a commercial hair restorer for animals.
"She sometimes has a little trouble getting around and seems stiff in her legs. But that could be partly her age. We don't actually know how well she was walking before the incident. But she doesn't hesitate to walk around and see about things," Jones said.
No firm decisions have been made on Jewels' future. So for the time being she's enjoying her status as the "big dog" in a crowd of 50-plus others - and, maybe even at times her role as "big momma" to the spotted pup.