Saturday, November 1st, 2008
Top-ranked Cavs cruise in Week 11
Coldwater opens postseason with impressive win
By Gary R. Rasberry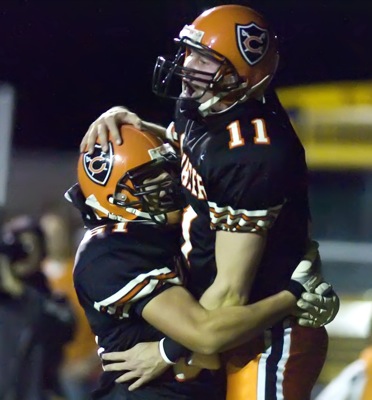 COLDWATER - The Coldwater Cavaliers kicked off the football postseason in style, clamping down on a potent North College Hill offense to post a 42-0 win in the first round of the Division IV playoffs at Cavalier Stadium on Friday night.
Coldwater (11-0), the 2008 Associated Press state poll champion, will play Oakwood next Friday at a site to be announced on Sunday afternoon. The Lumberjacks held off Jonathan Alder 12-10 in Plain City to improve to 8-3 on the season.
Coldwater held the Trojans to just 17 yards rushing on the night. Everett Horne, NCH's top running back and University of Cincinnati committee with nearly 1,750 yards in the regular season, was held to just 50 yards on 13 carries.
One of the keys was the starting point of the Trojans. North College Hill started past its own 25-yard line just twice, with eight starting placements coming inside its own 20.
"The key was Mario (Coldwater all-state kicker Mario de la Rosa) giving us a great kick right off the bat," said Coldwater coach John Reed. "We go down and stuff them right away. Trent Muhlenkamp makes a great tackle. Defense, three and out and we were able to go right in and score. We just built off of that. I don't know if it was deflating to them or not, but it certainly helped us."
When the Trojans tried to move the ball, the Cavalier defense was waiting. Quarterback Dakota Dartis was sacked five times and was credited with minus 32 yards rushing on 10 carries.
"All week long, every time you think of those guys (Horne and Dartis, who had over 500 yards rushing), you thought of them going 'BOOM!' and heading up the sidelines," said Reed. "I just can't say enough about the defensive discipline. There was only one time where (Horne) was able to cut back and make a big play against us, and even then we did a good job of stretching the field, but we didn't stay disciplined on the backside. It takes great discipline to play against these guys because their speed will kill you."
"We're a momentum team, We know it was a tall task tonight," said Trojans coach Bruce Baarendse. "Coldwater is an outstanding team. Anyone who seen them play will say the same thing. Outstanding team, outstanding program. Coming in, we knew had to take some chances early."
Meanwhile, the Coldwater offense was clicking on all cylinders, scoring on the first three possessions and five of their first-half possessions.
Early on, the Cavaliers cranked up the passing attack, with Cory Klenke firing touchdown strikes to Mitch Giere (35 yards) and Tony Harlamert (10 and 31 yards). Then the Cavs added rushing touchdowns from Klenke (three and seven yards) and Harlamert (six yards) before turning things over to the junior varsity for most of the second half.
"We wanted to run clock as much as we possibly could," said Reed. "We felt, you never know, but you could hope you could wear them down. Whether we did or not, I don't know, but you could see us gaining momentum, getting more and more confidence in ourselves. We really needed this."
"It seemed the whole first quarter, and into the second quarter, we were playing backed up," said Baarendse. "They had such great field position. Against a great team, you just can't put that on a plate for them."
Harlamert, the Midwest Athletic Conference Offensive Player of the Year, paced the Cavalier attack with four catches for 118 yards and 53 yards rushing on 11 carries. Klenke was 6-of-14 passing for 175 yards and three touchdowns. Adam Homan added 44 yards rushing.