Friday, November 28th, 2008
St. Marys school official: Benefits are good but being labeled homeless is rough
By Janie Southard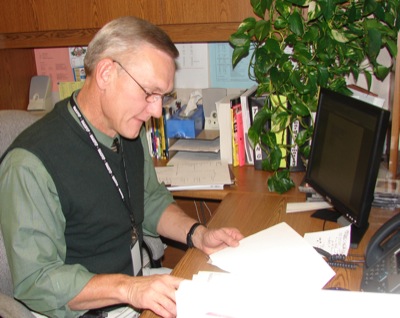 ST. MARYS - The big challenge in providing education to homeless students is convincing them they actually fit the federal guidelines of homelessness, according to one local school administrator. Another challenge may be getting them to the school of their preference.
"Until now we've had little to no homeless students in the district ... This year we have four situations involving six students who meet the legal definition of homeless," said Bill Steinbrunner, director of instruction and homeless coordinator for St. Marys City Schools.
He is the one who evaluates a student's circumstance to determine if it fits the necessary requirements. Plus, he is the one who must tell people they qualify for homeless assistance, and that's a real rough spot for Steinbrunner.
"Typically we think of homeless as living in your car or on the street. The federal guidelines are much more inclusive ... If a student is no longer living in his primary residence for whatever reason and now lives with a friend or relative, he is considered homeless," he said. "It's my job to go to the student and his parents, if possible, and let them know they are entitled to benefits because they're homeless."
It's not unusual for people to take offense. People move in with friends/relatives for any number of reasons, some financial some not. "I try to establish some kind of relationship before I go into the homeless thing," he said.
The former science teacher turned administrator sometimes cites his own experience. When his father was transferred to Wisconsin back in the 1960s, Steinbrunner and his siblings were sent to live with their grandparents. "This gave my mom and dad a chance to look for housing in Wisconsin. And, of course, they didn't have to worry about us, we were in good hands," he told the newspaper this week in his office.
By current federal guidelines the Steinbrunner children would have been classified as homeless and thus eligible for the many entitlements that accompany homelessness - like, free lunches, free tuition and no school fees.
Topping the list of possible complications for the district is transportation. The federal law states that a student may continue to attend the school he was attending before he became homeless.
"For example, if a student was attending a school in Toledo when his family had to move back here because the father lost his job, or any other problem, then the student can choose to continue at the Toledo school. If he lives here with his family, the St. Marys district would have to pay transportation costs to get him to school," Steinbrunner said. "We would encourage him to enroll here, but it's the parents' right to keep him in Toledo schools.
Since district policies prohibit transporting a student in a private vehicle, transport would have to be in a school bus or van.
These are federal laws and Steinbrunner recounted an incident in California in which a Los Angeles student qualified as homeless when his family moved in with relatives in San Diego (about 130 miles away). The San Diego school district had to foot the bill to transport the kid back to their school in Los Angeles.
"Homelessness is the trump card. It overrides everything else we would typically do to get students enrolled like medical records, transcripts, and so forth. Plus, of course, the transportation issues," he said.

Homeless assistance act:
The McKinney Vento Homeless Assistance Act of 1987 was the first, and is the only, federal legislation regarding homelessness. After the Reagan Administration determined homelessness did not require federal intervention, a federal task force was formed in 1983, but it did not establish programs or policies on the issue.
Responding to the demands of supporters nationwide, the Homeless Person's Survival Act was introduced but only pieces of it passed both houses of Congress. After extensive campaigning by supporters, Congress passed the McKinney act in 1987. In 2000 President William Clinton renamed the legislation the McKinney-Vento Homeless Assistance Act, in honor of Congressman Bruce Vento following his death.
Among the nine components (titles) of the act is Title VII, which authorizes four programs, one of which is the Education of Homeless Children and Youth Program, both administered by the Department of education. This was revisited in 2007 authorizing $35 million for transportation and doubling the total permitted spending on the program to $140 million.
The Hearth Act is being considered in the House of Representatives and would expand the McKinney Vento Act's appropriation to $2.5 billion annually.