Friday, November 28th, 2008
Car found now in pond stolen 15 years ago
By Janie Southard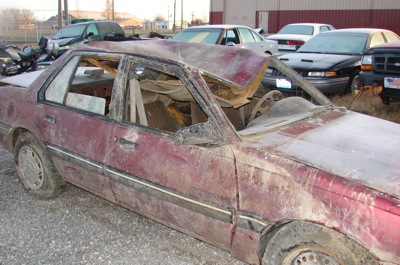 The car recently recovered from Eastview Pond by the Celina Fire Department was stolen from a Celina man 15 years ago, according to the Celina Police Department.
After reading the newspaper report earlier this month, Valerie Strohl contacted the police department to say this could be her late husband's car that he reported missing.
"We went through our ar-chived records by hand and finally found the report filed Lake Festival weekend of 1993," Police Chief David Slusser said, adding his officers believe the 1990 Pontiac Sunbird was running and intentionally driven into the water by placing a weight on the gas pedal.
Sure enough, it was taken from Bruce Strohl's driveway at 906 Briar Lane, Celina, 15 years ago.
It appears the car was driven onto the ice that covered the pond sometime last winter and it broke through and sank in 12 feet of water about 30 feet from shore. The car was found Nov. 4 by fire department personnel on a training dive. They could not see through the murky water to determine if there was anyone inside.
Once the car was cleaned up, there were no remains found inside and "it is unlikely that anyone had been inside when the vehicle entered the water," according to Slusser's press release.
The chief said there was also a report of the vehicle being involved in a crime in New Bremen in 1994 when a theft occurred at the Crown plant. The license plate seen leaving the area all those years ago matched the plate on the pond car.
"Anyone who has information about the theft, disposal or whereabouts of the vehicle over the last 15 years should contact the police department at 419-586-2345 ... The theft was covered by insurance and the car will be turned over to that company," Slusser said.
The car was pulled from the pond by a large wrecker from Jackson's Garage.