Saturday, November 8th, 2008
A video king at 16
St. Henry student turns his camcorder skill into profit
By Shelley Grieshop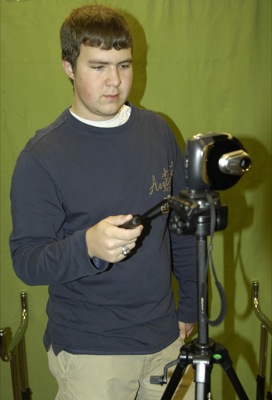 ST. HENRY - Adam Lennartz is a shy teen during the week but on Saturdays he and his Sony Handycam can be found at the wildest parties in town.
Lennartz, at 16, may be the youngest wedding videographer in the county - perhaps in the state. Watching and videotaping the antics of brides, grooms and their wedding parties gives the St. Henry High School junior a unique perspective - and sometimes an awkward one, he says.
"I often see many people that I know, including teachers," he says with a grin. "After the wedding is over and school starts again, it's sometimes hard to respect them as a teacher after seeing them at the wedding and on the dance floor."
Lennartz, the son of Mark and Rita, is a bright kid with a 3.9 GPA and a magnet for other students looking for help with homework. Besides his talent behind the camera, he's also a guru with computers and intends to pursue a computer engineering degree after high school.
"I don't want to be a full-time professional videographer," he says without hesitation.
His dream career is "anything with computers," he adds.
Besides his job as a part-time videographer, he works the sound system at his church and helps his uncle at a clothing shop in Coldwater where wedding attire is rented. Having all wedding-related jobs isn't always a good thing, he adds.
"At some weddings, the groom and groomsmen know I work at the Mr. Shoppe, so many will ask me to adjust their vest and ties throughout the night," he says.
Lennartz, who also transfers home-video and VHS tapes and creates photo-shows, produced his first wedding video for an acquaintance more than a year ago. The results were good and through word of mouth his business has grown, he says. He has his on Web site at www.adamsdi.com.
Lennartz says being a young videographer has its advantages.
"I don't have as much overhead as some do since I live at home, so I'm cheaper than most," he says.
The money he makes working two to three weekends per month is either re-invested in his equipment or put back for college, he adds.
His favorite part of the job is accompanying the newlyweds and their wedding party to area bars prior to the reception. It gives him an opportunity to take some "unique" footage and pass out a few business cards along the way, says Lennartz, who often gets mistaken as a college student.
Like every job out there, videography has its downside, too, he says.
"The worst thing would have to be getting the wedding party's advice for the bride and groom," he explains. "Though I do enjoy talking with them, tracking them down and getting them to say something can be a task."
His business is so successful, he's currently looking to hire a back-up videographer to help him out, he says. He's had to turn down jobs - something the ambitious high schooler doesn't enjoy.
Although his Saturdays are often spent watching others celebrate, he still finds time to do some partying of his own, Lennartz says.
"There's always Fridays," he adds.