Saturday, December 6th, 2008
Knitting helps send music to Haiti
By Margie Wuebker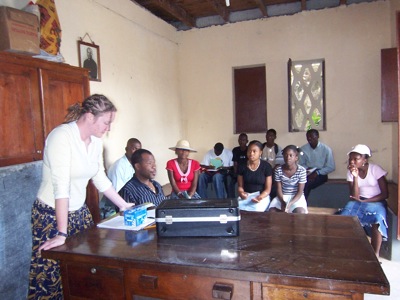 Former Minster resident Kerri Seger is bringing music to children in poverty-stricken Haitian towns one note at a time.
Seger, who currently works as a private piano teacher and tutor in Columbus, established the nonprofit One Note at a Time organization in October and subsequently launched an enterprising fundraiser to cover the cost of sending musical instruments for after-school music programs there.
Her first visit to Haiti was as a Minster High School freshman when she and her mother, Diana, participated in a trip led by St. Henry-area resident Linda Thieman. She returned later as a college freshman.
Now at the age of 25, she still marvels at a young Haitian girl who learned to sing opera in eight languages by rigging a small radio to a nearby radio tower. She also remembers other students happily singing acappella because their school had no musical instruments. They asked to touch her keyboard and then stroked the smooth surface reverently.
"I fell in love with the people there," the 2007 Ohio State University graduate says. "I soon learned one of the best ways to help is to provide activities that keep children off the streets, out of gangs and inspired. The drive and determination of the Haitian people is intoxicating, but they rarely have the avenues to succeed in their dreams."
Seger found a way to harness the "wonderful Haitian work ethic" during an extended visit to Plaisance in February, establishing an after-school music program and teaching English in an 8-by 10-foot classroom crammed with adults and youngsters alike. Classes typically ran longer than anticipated due to their zest for learning.
"For some this is the only form of education they are able to receive," she explains. "They take full advantage of the opportunity, listen respectfully and applaud at the end of each class."
She also worked side by side with many of the students helping to build houses in association with the nonprofit One Block at a Time founded by Maria Stein resident Ben Huelskamp. That association developed into a partnering of sorts. His organization focuses on housing and clean water while hers focuses on additional educational and career opportunities.
Seger, who is proficient on the piano, tuba, trombone and percussion instruments, trained a self-taught Haitian musician named Dieulange to take her place. He now teaches two-hour classes three times a week. Seventeen students help each other progress through the lessons, sharing a trumpet and two keyboards.
The success of the Plaisance program has prompted a request to establish another in neighboring Novion, which is the new sister parish of St. John Catholic Church in Maria Stein. Eager students already signed up in anticipation of classes.
"Both locations need more instruments and musical literature," Seger says. "We have received donations of several drum sets and other percussion instruments but shipping costs are prohibitive."
Not one to sit back and wait for anticipated donations of money and equipment, she decided to take matters into her own hands literally. In keeping with the theme "Collegiate Colors for Christmas," she is crocheting various items ranging from hats and scarves to ponchos and baby blankets in desired school colors to defray shipping costs. Information related to her handiwork, prices and order forms are available on the Web site www.onenoteatatime.synthasite.com. She can also be reached by email at kiwi_zk@hotmail.com.
Seger, who learned to knit and crochet years ago from her grandmother (Mary Lou Seger of Minster), does not charge for her labor but welcomes donations for One Note at a Time.
"I don't speak much Haitian Creole and many of the people there don't speak a lot of English," she says. "Music is a universal language. You don't need words to enjoy a beat. I want to bring that appreciation to young people who live without so many of the things we unfortunately take for granted."