Saturday, December 6th, 2008
Fisher keys spark for the Panthers
By Gary R. Rasberry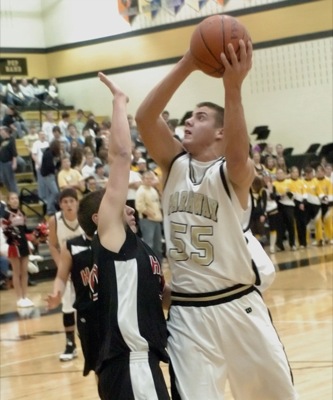 ROCKFORD - Up until the three-minute mark of the third quarter, Parkway was having trouble shaking Mississinawa Valley.
The Blackhawks stayed right with the Panthers until three minutes left in the third quarter, when Josh Fisher helped propel a 12-3 run to end the quarter and allow the Panthers to open the season with a 52-34 win at Panther Gymnasium.
Parkway struggled with Mississinawa Valley for most of the first half and a good portion of the third quarter. The Blackhawks were able to gain a couple of ties and threatened to put more pressure on the Panthers.
One area the Blackhawks were able to control was the boards, outrebounding Parkway 30-23 with a staggering 20-4 advantage on the offensive boards. That stat was made more incredible by the fact that Valley started did not have a player over 6-2.
Parkway coach Doug Hughes was annoyed by the stat, to say the least.
"What do you think is going to happen when we play a team with size?" said Hughes. "That will be scary. They'll shoot 'til they score. We were dealing with 5-9, 5-10 and 5-11, and they got 20 offensive rebounds? We better get tougher."
One person happy when hearing about the dominance of the boards was Blackhawks coach Jeff Vaughn.
"I'm glad to hear that because that's one thing I've been preaching to the kids: be aggressive," said Vaughn. "I used to coach in the MAC (at Fort Recovery as an assistant coach) and I want to play that style."
Mississinawa Valley cut the Panther lead to 26-24 with 3:17 left on a Trent Heitkamp offensive stick back, but after a trading of turnovers, Parkway's Josh Fisher took control, hitting a bucket with 3:02 left in the quarter to move it back to a four-point game. After a Blackhawk turnover, Fisher found Logan Hunter for two more with 2:32 to go to make it 30-24. After a Valley miss, Fisher dialed long distance for three points with 95 seconds left in the quarter, and then after a Blackhawk turnover, punched redial to make it 36-24 with 59 seconds left.
Levon Archer made it 38-24 with 35 seconds left before Heitkamp ended the streak with the old school three-point play to end the quarter to make it 38-27.
"Josh took the game over in the third quarter when we needed him to," said Hughes. "We came out of the timeout (with 3:47 left in the third) and hit some threes. Logan dribbled the lane and found it. I thought that was the big key of the game."
"They got on their horse and rode Fisher," said Vaughn. "I would do the same thing if I coached him."
The swing of momentum ruled in the final quarter, as Parkway outscored Mississinawa 14-7 to pull away for the win.
"Our defense wasn't part of the problem," said Hughes. "Our initial defense was there, but what it was was (Valley) could throw it up there and go get it anytime they wanted it. I thought we forced them into bad shots (13-of-56 from the field) until they (rebounded) it and that got us into trouble."
"I'm proud of the kids' effort," said Vaughn. "I knew Parkway wasn't expecting it to be where it was (at halftime). We lost 80 percent of our offense from last year. When you lose that much and play as many young kids as we did (just two seniors and three sophomores), it's hard to get a rhythm going."
Fisher scored 10 of his game-high 21 points in the third quarter. Junior Ryan Steinbrunner was a big key to Parkway staying ahead in the first half, getting a double-double with 10 points and 11 rebounds.
Heitkamp led the Blackhawks with nine points and pulled down nine rebounds. William Cook and Gary Peace added eight points each.
Parkway will have a short break to get on the same page, hosting St. Marys tonight.