Wednesday, December 10th, 2008
Mercer inmates may serve community
Auglaize County jail programs reap praise
By Daily Standard Staff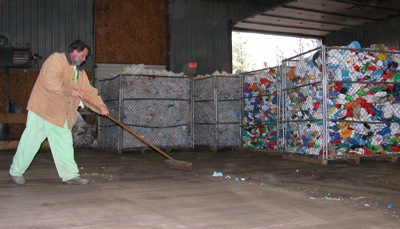 By SHELLEY GRIESHOP
and WILLIAM KINCAID

Mercer County inmates may soon earn their keep through a jail work program similar to one receiving national attention at the Auglaize County Law Enforcement Center in Wapakoneta.
When the new jail west of Celina opens its doors in the fall of 2009, Mercer County Sheriff Jeff Grey intends to initiate an inmate work program that would put prisoners to work at various sites in the county under proper supervision, he said.
The tasks inmates would perform for free could save the county and/or area communities money spent on paid labor.
Some Mercer County inmates currently participate in a court-ordered "work release" program, which allows them to work at a place of employment for a salary and return to jail each day. However, the jail does not have an inmate work program that permits offenders to do community service tasks such as picking up trash in ditches, Grey said.
"Most of the inmates do want to do things because it's boring sitting in a cage all day," he explained.
Grey hasn't implemented such a program yet because most of the inmates housed at the small jail are awaiting trials or serving short sentences; only convicted offenders qualify for such a program.
Grey said the specifics of the inmate work program will be sketched out in the coming months as he discusses the issue with local judges. Only inmates considered a low risk would qualify, he added.
"We're not talking about putting a rapist out there or a violent (offender)," Grey said.
Judges may consider reducing jail sentences for volunteer workers, which would be an incentive for good behavior, he added.
Grey doesn't have to look far to find excellent inmate programs to mimic.
Officials at the Auglaize County jail in Wapakoneta have earned national recognition for programs that have reduced jail violence, saved the county money and educated offenders to become more responsible citizens.
Auglaize County jail has three programs - the basic inmate work program that does not pay inmates; the work release program that allows inmates to leave during the day for a paid job; and the Auglaize County Transition (ACT) program.
The ACT program recently was recognized by the National Association of Counties/Bureau of Justice Assistance and the American Jails publication.
"ACT helps inmates get back in the workforce and instills responsibility," Auglaize County Sheriff Al Solomon said. "The idea is to get the inmate back into the community, get them educated ... and help them get a job."
ACT is operated at the local jail with help from an organization called Community Connection for Ohio Offenders, a private, nonprofit agency focusing on re-entry services in Ohio. ACT, used around the world in various settings including prisons, originally was created to curb inmate violence. Locally, it provides inmates with services such as assessments, intervention, resources and follow-up supervision upon jail release.
ACT is funded at the local jail by revenues collected from inmate telephone calls, profit from the facility's commissary fund and a grant from the Ohio Office of Criminal Justice Services.
Since ACT began, serious accidents/fights at the jail have declined 80 percent.
Through the county's work release program, certain inmates leave the jail to work a full day and earn wages, then return to the jail when their shift is through.
Twenty-five percent of the gross income earned by inmates in the work release program is directed to pay housing costs at the jail in a "pay-to-stay" program. Since the program began in 1999, more than $390,000 has been collected for room and board costs - saving Auglaize County taxpayers big bucks.
Child support and other garnishes also can be taken out of the inmate's check.
In the basic inmate work program, such as what Grey hopes to implement in Mercer County, inmates are supervised while working outside of the jail for no pay.
Ron Mullins, formerly of Celina and a current inmate at the Auglaize County facility, said the basic inmate work program allows him to burn excess energy and feel more relaxed at the end of the day.
"And I ain't all cramped up inside my cell all day," he said.