Wednesday, December 10th, 2008
Rangers struggle on offense, rebounding
By Gary R. Rasberry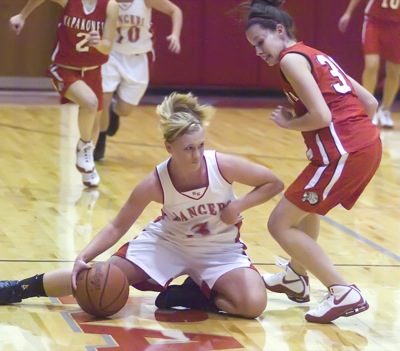 NEW KNOXVILLE - It was one of those nights where the shots just weren't falling for the New Knoxville Rangers.
And when the team couldn't rebound, it made things doubly worse.
Wapakoneta tripled New Knoxville in the rebounding department and hit 50 percent from the field as the Redskins stayed perfect on the season with a 48-34 win at Ranger Gymnasium on Tuesday night. The Rangers even their record at 2-2.
New Knoxville struggled with its shooting, connecting on 7-of-25 field goals in the first half and finishing at 14-of-42 (33 percent).
Wapakoneta not only was shooting well, hitting 20-of-40 for the game, but making sure New Knoxville was not rebounding. The Redskins out-boarded the Rangers by a 28-8 margin.
"That's the difference between this game and the Versailles game," said Rangers coach Tim Hegemier about the shooting and rebounding. "We were hitting those shots (against Versailles), tonight, we weren't.
"Rebounding was absolutely pathetic. Twenty-eight to eight. Can't continuously do that. Last three games, we got doubled up or more on rebounds. Even though we're small, we have to try and get around and crash the boards."
"We thought we could control the boards, it would make up for a lot of things we might not do very well," said Wapak coach Rusty Allen. "I don't think we handled the ball very well, had some unforced turnovers, but we were able to make up for that by dominating on the boards."
In the first half, the only one who kept the Rangers from getting way behind was Morgan Reineke. The senior post player stepped outside and hit a pair of three-pointers and scored 14 of her team's 16 first-half points, going 6-of-11 from the field while the rest of the team was 1-of-14. Taylor Arnett accounted for the only other Rangers' bucket in the opening half as Wapak led 27-16.
Reineke was slowed a bit in the second half by the Redskins, finishing with 16 points, but the rest of the Rangers stepped up. Arnett added a pair of treys and Casey Horstman began to score, getting New Knoxville to within seven points at 31-24 before the Redskins began to pull away.
"Our focus going into the second half was slowing down Reineke, she's a very good player," said Allen. "We knew the other girls would get some open looks. Our thinking was 'Let's hope they don't knock down enough shots to get back in the game.' Third quarter was key to us. We took care of the basketball and made some threes to extend that lead and give us breathing room going into the fourth quarter."
"You only have one player putting the ball through the hole. If you don't have more than one player (scoring), you're in trouble," said Hegemier. "You don't rebound, you're in trouble. Basically, that's what it is.
"We got it down to six or seven, then we threw the ball away. You can't do that. We have a young team, they have to learn. (Wapakoneta) has a veteran team. That's what happens."
Heidi Schlegel had a big game for Wapak. The 6-1 junior was 6-of-11 from the field to score 14 points. Emily Steveley, 6-1 senior, added 12 points while Devon Golden, held to just three points in the first half, hit a pair of treys in the fourth quarter to finish with nine.
Arnett finished with eight for New Knoxville, with Horstman adding five.
New Knoxville will look to bounce back and go to 2-0 in the Midwest Athletic Conference on Thursday, traveling to St. Henry. Wapakoneta opens Western Buckeye League play, hosting Bath on Thursday.