Wednesday, December 24th, 2008
The perfect gift
Celina church ministry organizes construction of home for local family in need
By Shelley Grieshop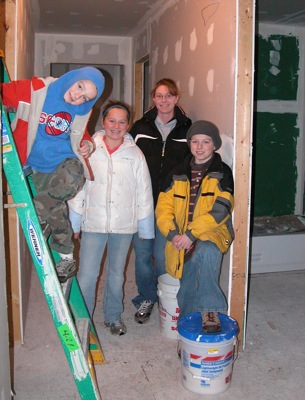 Ten-year-old Kyler and his 6-year-old brother, Brylan, race down the hallway of their unfinished Celina home, tearing past their mother and nearly sideswiping a ladder.
"Slow down!" shouts Amy Durbin, as the angry look on her face quickly fades to a smile.
Durbin, a single mother, and her three children are excited and a bit overwhelmed this holiday season. After moving several times following a divorce four years ago, her family finally has a place to call home. They were chosen by a local organization, the St. John Builders ministry group, to receive a three-bedroom home at cost.
"I found out November 7," Durbin, 31, says. "I cried."
The Builders - a ministry based at St. John Lutheran Church in Celina - has constructed more than a half dozen homes for people in need including one located just a half block from the current project at the corner of Wayne and Mackinaw streets.
Members volunteer their time and use donated and discounted equipment from area businesses for their projects. Sometimes local contractors offer their expertise on site at no cost, member Bob Chaney says.
The St. John Builders also have built and repaired homes in Mississippi where Hurricane Katrina left many of its victims homeless and have performed other types of repairs for the needy.
Besides paying for the home at cost, the Durbins were asked - and eagerly agreed - to help with the construction. Work officially began on the property in October and the home should be ready to inhabit in the spring, Chaney says.
The Durbin family was selected to get the home by a special committee that reviewed applications. The process is similar to the one used by Habitat for Humanity, Chaney adds. The committee received less than 10 applications for the current project, he says.
"None of the recipients (for the new home projects) have ever been from our own congregation," he adds.
The Durbins attend Grace Missionary Church of Celina.
Amy Durbin's determination to succeed easily put her at the top of the organization's list. While raising her children alone, she works part-time as a teacher at a local preschool/daycare and attends classes full-time at Wright State University-Lake Campus. She is working on a degree in early childhood education.
"I love to teach preschool," she adds. "It's just the best."
The Celina native says she can hardly wait to have her own bedroom. She and her children currently live in a cramped two-bedroom apartment where she has little privacy.
"My bedroom is in the living room and my bed is the couch," she says.
Having a home to build memories in is a dream come true and a one-of-a-kind opportunity, she admits.
"This program (St. John Builders) is outstanding. We love working with this group, they're so much fun," she says.
Despite the cold cement floors and bare walls, the home's warmth already can be felt as Kyler and Brylan proudly show off their new bedroom - including the "no girls allowed" symbol they drew on a section of drywall. Their sister, Mahaley, 11, says she'd like to raise a cuddly puppy in her new home, although her mother raises her eyebrows at the thought.
After shooing the boys into the house from a romp on the front porch, Amy Durbin tries to explain how grateful she feels this Christmas. For a moment she is speechless and almost gives way to tears. She can't believe the generosity she and her children have been shown by so many, she says.
"I praise God. He is the ultimate provider. What he does through St. John the Builders ...," she says. "I want God to get the glory in this. His hands are all over this."