Wednesday, December 24th, 2008
Turnovers haunt Coldwater
By Gary R. Rasberry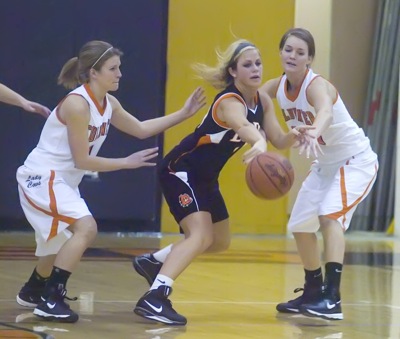 COLDWATER - Despite a strong run that saw the Cavaliers take a short lead in the first half, Coldwater had struggles in taking care of the ball, resulting in a lot of lost opportunities.
Elida took advantage of the miscues to pull away in the second half for a 48-33 win over the Cavaliers at The Palace. The Cavaliers drop to 0-6 on the season as the Bulldogs even their mark at 3-3.
The Cavaliers opened the game by committing 10 turnovers in the first quarter and finished with 27 turnovers in the contest.
"Their press forced us into some, but a lot of (turnovers) were unforced," said Coldwater coach Nick Fisher. "I guess that's what the girls are frustrated about, because of the unforced stuff."
"We took them out of their flow," said Elida coach Steve Fersch. "Our pressure in the frontcourt took them out of what they wanted to do. They couldn't get into an offensive rhythm."
Elida jumped out to a 7-0 lead as the Cavaliers went over five minutes without a bucket. That changed in a hurry when Marla Hess came off the Cavalier bench. Hess hit back-to-back three pointers to cut the Bulldog lead to three points at 9-6.
Coldwater got back on track through the second quarter, as Hess continued to find her shooting touch and other Cavaliers, like Haley Stucke, got on track. Stucke's bucket with 2:12 left in the half gave Coldwater a 16-15 lead, then Hess scored off a steal to make it a three-point Cavalier lead. Elida countered with three free throws, two by Kaylie Prince with 37.8 seconds left, to tie the game at 18-all at the half.
"Like any team that is struggling, our confidence and shooting percentage isn't that high," said Fisher. "It was nice to see Marla come out and get off to a nice start. We know what she's capable of. We know she's capable of shooting how she shot tonight in the first half."
Elida took the lead over for good to start the third quarter as Amber Saddler got a stick back to make it 20-18 just 57 seconds into the second half. From there, Coldwater would not get any closer than two points the rest of the way as Elida outscored Coldwater 30-15 in the second half.
"We're still battling, still playing hard," said Fisher. "It was just inconsistent play on both ends."
"We just have to take care of the ball a little better," said Fersch, whose team did commit 17 turnovers. "Coldwater's defensive intensity is awesome. I told the girls this is one of the best defensive teams we'll see all year."
Hess scored all 13 of her points in the first half, going 0-for-2 from the field in the final two quarters. No other Cavalier had more than four points.
Chelsea Mathias led the Bulldogs with a game-high 19 points, hitting 6-of-11 from the field, including 3-of-6 from behind the three-point line. Saddler added 12 points and pulled down nine rebounds.
Coldwater is back action on Saturday, hosting Celina for a Mercer County matchup at noon.