Tuesday, December 30th, 2008
Celina couple narrowly escapes fire
By Margie Wuebker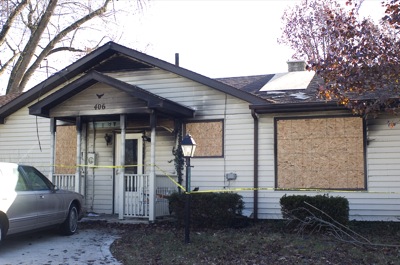 An elderly Celina couple escaped their burning home early Saturday morning with the clothes on their backs and minor smoke inhalation.
Doris "Judy" Hawk, 406 Harbor Point Drive, reportedly awakened shortly after 2:30 a.m. to "rustling" noises and went to investigate. After unsuccessfully attempting to douse the flames with water and then calling 911, she helped her disabled husband Robert from the home.
"It was a devastating fire," daughter Lynn Sweeney told The Daily Standard. "They lost just about everything except a couple photo albums."
The couple, who are in their 80s, were taken by ambulance to Mercer County Community Hospital in Coldwater. Both were treated in the emergency room then later dismissed.
"The doctor told us Dad and Mom are very, very, very lucky to be here with us," Sweeney added. "Everything could have turned out so tragic."
Celina Fire Chief Doug Kuhn echoed the sentiments expressed by the emergency room doctor, adding the elderly woman apparently awakened before smoke detectors started emitting shrill warnings.
The fire apparently started in the bedroom area of the one-story home with the 911 call for assistance placed at 2:49 a.m. Firefighters and insurance company representatives continue to investigate the cause.
Kuhn said no dollar figure has been set although he described heavy fire damage to the bedrooms with moderate heat and smoke damage throughout the home.
While the fire was brought under control in 30 to 45 minutes, the 15 firefighters and two trucks remained on the scene until approximately 6 a.m. making sure flames did not rekindle.
"We had to deal with some weather conditions enroute to the scene," Kuhn said. "Visibility was a problem due to the heavy mist or fog. Once we arrived on the scene, there was a stiff wind blowing in from the lake."
The Hawks are currently residing with their daughter near Mendon. They hope to return to the Harbor Point address at some point but know any homecoming could be months away.
Family members were busy throughout the weekend getting clothes for the couple and replacing necessities like damaged prescription medication.
"You can replace clothing and furniture," Sweeney said. "There is no way to replace one life let alone two. Despite the devastating loss, we have reason to be thankful."