Tuesday, December 30th, 2008
Second quarter propels Bulldogs
By Ryan Hines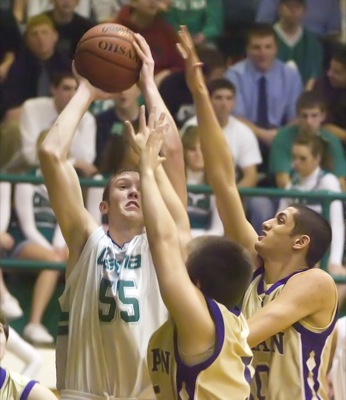 A big advantage in the second quarter helped Celina reach the championship game of the 28th Annual HALLiday Shootout on Monday night in the Fieldhouse.
Celina outscored Bryan 21-5 in the decisive second-quarter and the host Bulldogs reached the championship game of the HALLiday Shootout for the 12th straight year following a 55-43 triumph over the Golden Bears.
While reaching the championship game of its own tournament hasn't been a problem for Celina, winning the title contest has been problematic for the Bulldogs. Celina last won its own tourney in 2005, and will have to beat a talented Columbus Bishop Ready team to do it this year after the Silver Knights beat Greenville 58-48 in Monday's other semifinal contest.
Celina head coach Chris Bihn knows his Bulldogs have a tough task ahead in Bishop Ready.
"It's always a goal for us to win our home tournament each year, but we set a goal at the start of the season that we wanted to finish undefeated on our home floor for the whole season and in order to reach that goal we have to win our own tournament and accomplish that goal," said Bihn. "Ready is a very good team that can make shots and will be a difficult challenge for us. We must play well to beat them."
Prior to Celina taking on Bishop Ready in the championship game at approximately 8 p.m., Bryan will meet Greenville at 6 p.m. in the consolation finals.
Getting another strong contribution from Derek Gagle and Jake Green could go a long way in helping Celina to a possible 12th-ever Shootout crown.
Gagle and Green each hit for a game-high 20 points while Darin Waterman added a dozen points in the Bulldogs' offensive arsenal.
Bryan head coach Doug Billman was complimentary of the efforts by Gagle and Green against his Golden Bears.
"Gagle is a set shooter that you can't even give an inch to and Green has really long arms and can score for them in the post. They are a nice inside-out combination for Celina and we struggled with containing them tonight," said Billman.
Gagle and Green had a big hand in turning an 11-9 lead after the first quarter into a 32-14 advantage at halftime. The senior duo accounted for 14 of the 21 Celina points in the second quarter.
"We came out and pressured pretty well in the second quarter and we made it difficult for them to get into their offense," said Bihn. "We played pretty well in the second quarter and our defense helped set up our offense and give us some easy transition baskets."
The offensive numbers weren't pretty for Bryan in the second quarter. Bryan was just 1-of-10 shooting from the field in the second quarter and ended the first half with an anemic 14 points and even more dismal 14 turnovers.
"It's been the same old thing for us this year, our starts to our basketball games have been the downfall for us," said Billman. "We knew that they (Celina) were going to pressure and going to trap us, and we didn't handle it well. It dug a big hole for us. You can't have a start like we had tonight and be able to beat a good team like Celina."
Celina lacked intensity in the second half as each team scored 15 points in the third quarter before Bihn cleared the bench at the 5:00 mark of the final stanza and Bryan scored the final 10 points of the game to make the score much closer.
The lone Bryan player to reach double figures was Matt Jones with 13 points, with 11 of those points coming in the second half.
In the jayvee portion of the HALLiday Shootout, it will be the same teams playing for the championship. Celina beat Bryan 50-40 and will play Bishop Ready at 2:30 p.m. today after the Silver Knights beat Greenville 46-43. Bryan will play Greenville today at 1 p.m.