Friday, December 5th, 2008
Indians put Green Wave away in fourth quarter
By Gary R. Rasberry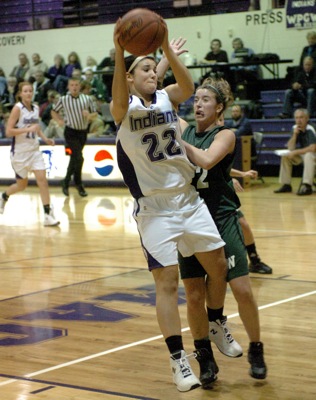 FORT RECOVERY - Fort Recovery improved to 2-0 on the season, pulling away from a pesky Greenville squad in the fourth quarter en route to a 69-57 win at Fort Site Fieldhouse on Thursday.
The Green Wave drop to 1-3 on the season.
It looked early on that the Indians were going to put the game away early, jumping out to a 9-2 lead before Greenville came back to make it close for the majority of the game.
"We just don't have that mentality yet to put teams away," said Fort Recovery coach Doug Bihn. "Somewhere, hopefully, we'll have to establish it. We can't let (teams) hang around."
After Fort Recovery went up 17-9 after the first quarter, the Green Wave put together a strong second quarter. Greenville post player Jena Studabaker scored eight points in the quarter as the Green Wave outscored the Indians 23-9 to cut the deficit to 34-32 at the half.
In the third quarter, after Aireca Hetzler hit a free throw to cut the Green Wave deficit to one, Alexa Hetzler nailed a three-pointer off the offensive rebound to put Greenville up for the first time at 36-34 with seven minutes left.
Fort Recovery snapped back into its early form as Chelsey Leuthold scored to tie the game, then after a Green Wave missed basket, Kelsey Wuebker scored to put the Indians back up for good at 38-36 with 6:10 left.
The Green Wave would get back to within two late in the third quarter, but in the fourth, the Indians pulled away. Nicole Pottkotter buried a three-pointer with 6:46 left in the game to put the Tribe up 51-43, and after a Greenville free throw, Kendra Brunswick hit a trey of her own to make it a 10-point lead at 54-44. Fort Recovery got the ball back and Pottkotter made it 56-44 on a stick back, forcing the Wave to call a timeout. The teams traded points the rest of the way.
"We still gave up too many points," said Bihn. "Fifty-seven is too many for us to give up. It's a better game than we played last week (a 36-25 overtime win at St. Marys), but we still have to be better on the defensive end."
Greenville coach Thomas Kukasky was happy with his team, who had just six points returning from last season and started two sophomores, hanging in there.
"Our first game against Celina, we were down 25 at halftime and we just fell apart," said Kukasky. "Tonight, we hung tough for a little over three quarters, then we got down and tried to make too many things happen."
The Indians, who were without Anne Koesters due to injury, got scoring from almost every facet of their game. Leuthold led the Indians, who shot 54.7 percent (29-of-53) from the field, with 15 points. Joanna Snyder added 13 while Brunswick came off the bench to score 13 in just 16 minutes of action.
"I think we can be a deep team," said Bihn, who had 11 of 12 players score on Thursday. "... That's what we're trying to incorporate right now."
Alexa Hetzler paced the Green Wave with 14 points while Studabaker added 11 points.
Fort Recovery is back in action on Saturday, traveling to Wapakoneta for a 1 p.m. tip-off as part of a girls-boys doubleheader with the Indians' boys team opening their season against the Redskins at 6:30 p.m.