Wednesday, January 21st, 2009
Bulldogs pull away in the second half
By Ryan Hines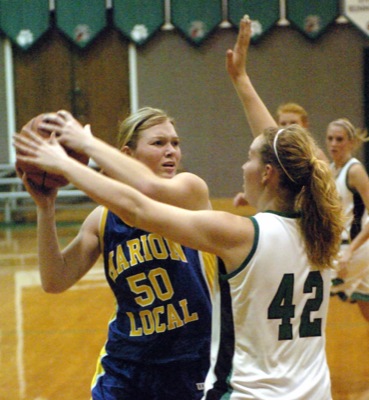 A dominating second-half performance by the Celina girls basketball team turned a one-point lead at halftime into a comfortable Bulldogs win.
Celina outscored Marion Local 28-13 in the second half for a convincing 59-43 victory in a nonconference Mercer County showdown at the Fieldhouse on Tuesday.
The final score doesn't indicate how close this game was through the first half of action.
Marion Local (4-7) actually led by five points after the first quarter of play, but Celina (7-3) chipped away at the deficit and actually led 31-30 at halftime.
Katrina Brand, who had 14 points in the first half, hit a short jumper to push the Flyers back up by one point, but that was the last lead of the night for Marion Local.
Celina countered with an 11-0 run that turned a one-point deficit into a 10-point Bulldogs lead. Cenzie Yoder and Kelsey Waterman each had four points and Candra Francis canned a three-pointer to account for the game-changing run.
Marion Local trimmed the lead down slightly to eight points entering the fourth quarter, but a 9-3 Bulldogs run to start the final period put the game out of reach for the Flyers. Celina led 55-41 at that point with 3:04 left in the game and Flyers head coach Treva Fortkamp knew that time had run out on her team.
"We just couldn't score in the second half and Celina deserves some credit for that by forcing us into some turnovers (13 turnovers in the second half)," said Fortkamp. "We had opportunities but didn't take care of the ball and we got hurt on the boards too (Celina had a 32-25 advantage in the game). We're a young team and we panicked in some pressure situations. We've fought back from a lot of big runs like Celina had in the third quarter and the start of the fourth quarter, but tonight it seemed to take the wind out of our sails. We need to learn from that."
Celina head coach Brian Stetler liked what he saw out of his team in the second half.
"I think that the big thing for us tonight was that we came out in the second half and added more pressure to our defense and our girls did a good job of executing what we wanted them to do on that end of the floor," said Stetler. "I think that our pressure was able to wear them down a little in the second half."
The Bulldogs' defense held Brand, the Grand Lake area's leading scorer, to just five points in the second half as the 6-4 junior finished with a team-best 19 points and nine rebounds.
Yoder matched Brand point-for-point on the way to a double-double with 19 points and game-high 12 rebounds. While Yoder was the Bulldogs' inside threat, Francis gave Celina another scoring option from the perimeter by scoring 16 points.
"Cenzie really came ready to play tonight. She played under control and did what we asked of her and Candra is a good athlete that was aggressive on the offensive end and we need that out of her," said Stetler.
Celina hosts Western Buckeye League co-leader Lima Shawnee at the Fieldhouse on Thursday while Marion Local travels to Midwest Athletic Conference leader Delphos St. John's.