Friday, January 23rd, 2009
New Bremen buries St. Henry in second half
By Mark Ruschau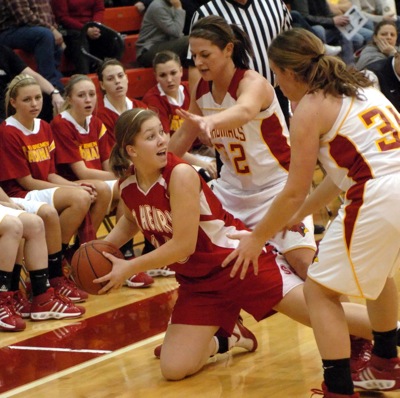 NEW BREMEN - Coaching a group of veteran ball players, New Bremen girls basketball coach Dave McFeely has found out this season that when he calls a timeout, it's not necessary to scream and yell when a gentle reminder seems to work just fine.
Thursday night, McFeely saw his team blow a six-point lead in the second period, so he called a timeout. After the one minute refresher course, McFeely's girls responded and went on to blast the St. Henry Redskins 51-23 in Midwestern Athletic Conference action at Cardinal Gymnasium.
With the win, the Cardinals' 10th in a row, New Bremen improves to 13-1 overall and 4-1 in the conference while St. Henry falls to 5-6 on the year and 2-2 in the MAC.
Trailing 14-8 early in the second period, St. Henry scored seven points over five possessions to take a 15-14 lead with 3:53 left in the period, forcing McFeely to call the timeout. After the timeout, New Bremen cranked up the defense and did not allow St. Henry a field goal the rest of the game, the last eight points came at the free-throw line.
For the night, St. Henry hit on just 6-of-27 shots from the floor and turned the ball over 26 times.
"When I called the timeout there in the second quarter, all I told them was that they needed to refocus to the task at hand and they responded," said McFeely. "I was really petrified of their size inside, especially Brooke Mattingly. We had scouted them several times and we knew that she could hurt us and I thought we did a good job of controlling her."
While McFeely was pleased with the way his squad responded to a pressure situation, St. Henry coach Charlie Maier was left wondering what happened to his squad.
"We had the lead there with about four minutes left in the half, New Bremen stepped up their defensive intensity and we tanked it," said Maier. "I do not think that I have ever seen a team, as long as I have coached, go in the tank like we did in the second half.
"We did not do anything offensively or defensively, I am very disappointed in our performance tonight. We are better than this. Give New Bremen credit, they put the pressure on us and we did not respond, I have never seen anything like it before," continued Maier.
While the New Bremen defense was putting the clamps on St. Henry, the Cardinals were able to find their shooting stroke late in the half as they scored seven points on their last seven trips and four different players scored during the run.
The intermission did not slow down the New Bremen offense in the third quarter as it hit 11-of-17 shots from the floor and added 8-of-10 from the free-throw line in the second half outscoring St. Henry 30-8 in the second half.
"We are finally learning how to put teams away in the second half," said McFeely. "We were able to play well on both ends of the floor and we were able to finish them off. The one negative was that we put them on the line way too many times, especially in the second half."
Jaclyn Dabbelt led a balanced attack for New Bremen with a game-high 12 points. Le Ann Topp added 10, Stacy Timmerman nine with Michelle Griesdorn and Taylor Jones adding eight apiece.
Mattingly led St. Henry with eight points and 13 rebounds.
New Bremen returns to action on Thursday, traveling to Marion Local for a conference game. St. Henry is back in action on Saturday at Lima Perry.