Thursday, January 29th, 2009
Digging in to help others in Coldwater
By Betty Lawrence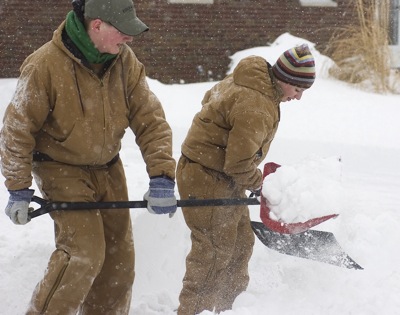 Snow was flying all day Wednesday throughout the village of Coldwater as several FFA students helped residents clear their driveways and sidewalks.
"School was canceled due to the storm, and we just decided, as a community service, to help dig people out," senior FFA member Diane Selhorst said Wednesday following a long day of shoveling.
After rounding up snow shovels, a snow blower and even a skid loader from FFA member Tyler Muhlenkamp, the group began mid-morning and worked non-stop all day. Also pitching in was FFA adviser Jack Mescher.
"We put in a call to (the local radio stations) that we were doing this and the calls for help started coming in pretty quick," Mescher said.
Selhorst said the group helped those who called in, along with others they saw while driving through the village.
"Everyone was so appreciative," Selhorst said. "It's a good feeling to know you did something good today."
Some residents offered cookies and candy and even money, but only the food was accepted.
"We didn't do this to raise money. It was community service," Selhorst said.
She estimated up to 30 families, mostly elderly, were assisted.
Mescher said the only problem they had during the day was some ice under the snow.
"I can't tell you how proud I am of these kids. They worked hard, all day, and there was not a single complaint," Mescher said, adding the group went above and beyond the FFA motto, "Learning to do, Doing to learn, Earning to live and Living to serve."