Tuesday, January 6th, 2009
Trapshooting a target of local sportsmen
By Shelley Grieshop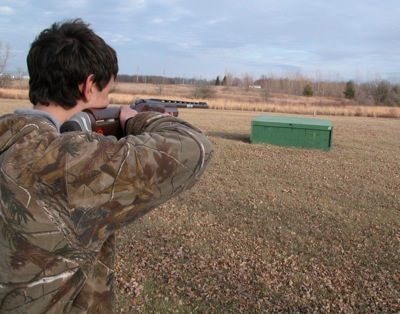 Dave Berlet was still in diapers when he attended his first trapshooting championship 65 years ago.
The New Knoxville man hasn't missed a year of competition since.
"My father was a trapshooter," says Berlet, who in August competed in his 52nd Grand American World Trapshooting Championship in Illinois and won another five trophies with his inherited skill.
In 1995, he was inducted into the prestigious Ohio State Trapshooting Association Hall of Fame.
Nationally, the number of people participating in shooting sports such as trap and skeet has risen by 9 percent in recent years. Trapshooting, in particular, continues to be a popular sport in Ohio and across the Grand Lake area, especially among hunters and gun enthusiasts, local sportsmen say.
"Trapshooting became popular because it helped hunters become better shots in the field," says Gary Kremer of Kremer's Guns in Celina.
Trapshooting ranges can be found locally at fish and game and gun clubs in New Bremen, St. Marys, Fort Recovery and Moulton, although most are not open during winter months.
The sport has three basic variations of play: singles, doubles and handicap. For singles and handicap games, shooters take aim at 25 clay targets - five shots each from five different stations in the field. A pair of targets are flung for doubles. Shooters playing singles and doubles stand 16 yards from the target; handicappers stand from 19 to 27 yards away, depending on ability.
The targets - clay discs - are released from an automated trap when a shooter yells "pull." When the sport first began in England in the 18th century, live pigeons were released as targets. Later the birds became scarce and artificial targets were used.
Kremer and Berlet say some trapshooters were angered three years ago when the Grand American championship was moved from Vandalia - its headquarters the last 81 years - to Sparta, Ill., where a brand new facility was built.
"I think we lost some interest then but it seems to be coming back," Kremer adds.
Berlet, who set a shot record in 1971 that was recorded in the Guinness Book of World Records, says the move to Illinois is somewhat ironic since the state isn't considered gun-friendly. However, he admits the reputation belongs more to the Chicago area than the Sparta region in the southwest corner of the state.
Kremer, who is known for his accuracy in the sport, says the increase in equipment costs and gasoline prices also led to a temporary drop in interest in trapshooting the last few years but it appears to be on the rise once again.
"This really is a family sport. You see people of all ages participating in this, from 13 to 80," Kremer says. "The competition is open to everybody and you're classified only by your score."
The competition and camaraderie is the draw but the winnings aren't bad either, he says. Top prizes often reach $30,000 or more, he adds.
"There's people who make a living at it," Kremer says.
Through the years, Berlet often found himself competing with his father, George, and brother, Ned.
"It always kept the sport interesting, as well as the competition with everyone else," says Berlet, who retired from the maintenance department at the former Goodyear Tire & Rubber Co. in St. Marys.
Berlet says trapshooting can be expensive: entry fees, shotguns, shells, glasses and ear protection, shooting vests and bags can cost hundreds and even thousands of dollars. But to him the sport has brought many rewards.
"One of the great things about trapshooting are the people you meet and the friends you make, not only from all over this country, but from all over the world," he says. "There are a lot of ladies that compete and also wheelchair competitors ... it is a very safe sport to participate in."

Trapshooting history:
Trapshooting originated in England in the 18th century and debuted in the U.S. early in the 19th century.
The sport quickly became very popular in Ohio, where it still maintains deep roots. The Amateur Trapshooting Association and the Trapshooting Hall of Fame and Museum are located in Vandalia.
One of the first trapshooting competitions in America was held in Cincinnati in 1831. Cincinnati-native George Ligowski invented the clay-pigeon target in the 1880s, according to Ohio history.
Two of the most popular trick shooters of the sport were Greenville native Annie Oakley and movie and television cowboy star Roy Rogers, born in Cincinnati.
- Shelley Grieshop