Saturday, February 7th, 2009
Mercer County ranks first in farm income
Big increases due to high market prices
By Nancy Allen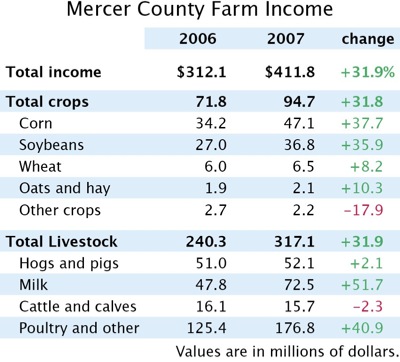 Mercer County again has ranked No. 1 among the state's 88 counties for farm income in 2007, with total income increasing almost 32 percent from 2006.
Higher market prices produced increases in almost all categories for the county, the 2007 Ohio Farm Income report shows. The most recent data available is from 2007, with 2008 figures not being released until the end of this year.
Preliminary figures show Mercer County cash receipts for all commodities totaled $411.8 million, compared to $312.1 million in 2006.
Darke County ranked second in the state for total farm income in 2007 with $358.5 million, a 32.1 percent increase from their 2006 total of $271.3 million. Auglaize County ranked 12th for total farm income in 2007 at $128.5 million.
Mercer County ranked first in income for hogs and pigs ($52.1 million) and first in income for poultry and other livestock ($176.8 million). Income from livestock made up 77 percent of total 2007 farm income in the county, the report shows.
Wayne County, the area around Wooster, ranked first in milk ($128.7 million), while Mercer County ranked second with $72.5 million.
In 2007, Mercer County saw income increase in nine of the 11 categories measured - total crops, corn, soybeans, wheat, oats and hay, total livestock, poultry and other livestock, milk, hogs and pigs. Income decreased in the other two - cattle and calves and other crops.
The biggest percentage increase in Mercer County was seen in milk, which rose 52 percent. This followed a decrease just the year prior when milk dropped 14 percent between 2005 and 2006.
Other big increases in Mercer County were seen in poultry and other livestock (41 percent), corn (38 percent) and soybeans (36 percent).
The big increases in these categories were all due to increased farm market prices, said Chris Gibbs, Mercer County Farm Service Agency director.
"There actually was a measurable decrease in corn yields between 2006 and 2007, but the market price went up 50 percent or more and made up the difference," Gibbs noted. "Corn yield in Mercer County was 160.3 bushels per acre in 2006 and 147.8 bushels per acre in 2007."
According to the USDA's annual report, the market price for milk increased from $12.40 to $22.30 per hundred weight, eggs (poultry and other livestock) went from $0.3 to $0.89 per dozen, corn went from $2.25 to $3.33 per bushel and soybeans went from $5.82 to $7.88 per bushel.
The category called other crops, which includes rye, barley, fruits and berries, nursery sales, sweet corn, pumpkins, gourds and others, dropped 18 percent in 2007 in Mercer County. The only other category that decreased in 2007 for Mercer County was cattle and calves by 2.28 percent.
Average receipts per farm in Mercer County increased from $251,719 in 2006 to $334,766 in 2007, figures show. Auglaize County saw a increase in average per farm receipts from $100,648 in 2006 to $129,834 in 2007, the data shows. Average receipts per farm in Darke County also increased from $157,730 in 2006 to $208,403 in 2007.
The ranking and other county-by-county numbers are available to the public in the report or online at www.nass.usda.gov/Statistics_by_State/Ohio/Publications/Farm_Income.

Ohio receipts:
According to Ohio Agricultural Statistics Service, Ohio farmers overall fared well in 2007 due to increased market prices.
The report's preliminary data shows that Ohio farmers earned more income in 2007 and government subsidy payments decreased 38.5 percent to $268.67 million in 2007.
Mercer County Farm Service Agency Director Chris Gibbs said the elimination of loan deficiency payments (LDPs) made to farmers resulted in lower government payments in 2007 because farm market prices increased. LDPs are paid to farmers whenever local market prices drop below government established support prices for commodities.
Statewide, 2007 cash receipts for livestock and livestock products totaled $2.53 billion, the highest total of all time, and 27.3 percent higher than 2006.
Income for all Ohio crops in 2007 was $4.37 billion. Based on preliminary estimates thus far, this breaks the world record of $3.63 billion set in 2006 by 20.4 percent.
The top five commodities in terms of cash receipts in 2007 were soybeans, $1.5 billion with 22.2 percent of total receipts; corn, $1.5 billion with 22 percent of total receipts; wholesale milk, $985.1 million with 14.3 percent of total receipts; poultry and eggs, $695.8 million with 10 percent of total receipts; and greenhouse and nursery, $647.4 million and 9.4 percent of total receipts.
- Nancy Allen