Saturday, February 7th, 2009
St. Henry relies on defense for win
By Mark Ruschau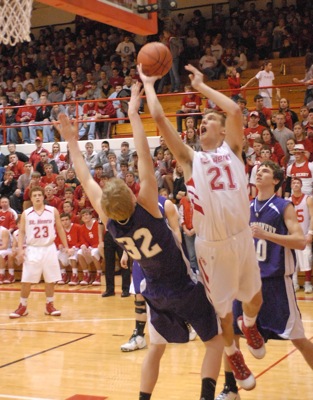 ST. HENRY - On a night when they struggled with their shooting, the St. Henry Redskins did the little things to come up with a huge 61-48 Midwest Athletic Conference win over long-time rival Fort Recovery on Friday night at the St. Henry Middle School.
With the win, the Redskins stay in the conference race, one-game behind league-leading New Knoxville, with a 5-1 mark and they move to 14-1 overall. The loss drops Fort Recovery to 2-4 in the MAC and 10-5 overall.
"The one thing we ask of the kids in every game is to go out and play hard and leave everything on the court and when the game is over, hold your head high and be proud of your game and I thought we played hard tonight," said St. Henry coach Joe Niekamp.
The Redskins indeed did work hard as they played great defense all night long in muzzling the Indian offense. The Indians hit just 14-of-51 from the floor for just 27 percent, and in the first three periods, Fort Recovery hit just 8-of-36.
The Redskins did a great job on the top two Fort Recovery scorers, Greg Kahlig and Craig Tobe, holding them to a combined 8-of-32 from the field for 29 points. The Indians' shooting struggles extended to the free-throw line, hitting just 14-of-21.
"St. Henry did a great job of defense on Tobe and Greg Kahlig all night long holding them to just 8-of-32 from the field," said Fort Recovery coach Brian Patch. "It is going to be hard to score, and it was tonight when your top scorers go a combined 8-of-32 shooting for the game."
"The coaches and I were commenting after the game about how we were really pleased with the defensive effort tonight," said Niekamp. "We started out in a man (defense) and then we got into some foul trouble and we went to a zone and I thought we did a great job defensively, especially in the post. But in addition to that, I thought we did a great job of finding their shooters and closing out on them, limiting their looks."
On the offensive end, St. Henry hit on 21-of-45 from the field, including just 3-of-16 from three-point range. St. Henry was able to stay on top in the game by hitting free throws when it had to and by rebounding the basketball.
The Redskins hit on 16-of-20 from the free-throw line, including 12-of-16 in the fourth period.
St. Henry totally dominated the glass, 37-26 and the Redskins turned 11 offensive rebounds into 13 points. Seven of the eight Redskins that saw action grabbed at least two rebounds led by Spencer Niekamp with a game-high 13 boards.
"They just killed us on the boards," said Patch. "It seemed like every offensive rebound that they got, they turned into points and that really hurt us."
"We have some size and we have some strong kids so we somewhat expect to rebound the ball pretty well," said Niekamp. "I thought we gave a good effort tonight and that is the type of rebounding effort that we are going to need the rest of the season."
Although he struggled shooting the ball, Greg Kahlig still had a good scoring night as he scored a game-high 23 points, including 11-of-15 from the free-throw line and he also grabbed a team-high 12 rebounds.
Niekamp led the Redskins in scoring with 20 points, including 5-of-5 from the free-throw line. Victor Fortkamp added 17 points.
St. Henry is back in action tonight hosting Mississinawa Valley. Fort Recovery returns home Tuesday to face Ansonia in a rescheduled game starting at 6 p.m.