Wednesday, February 11th, 2009
Defense sets the tone right away for Indians
By Gary R. Rasberry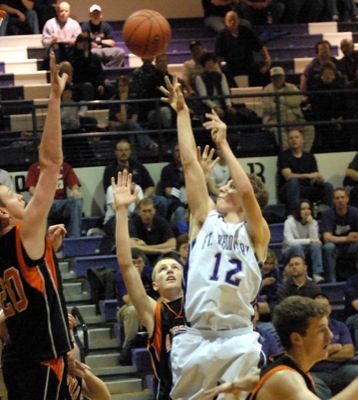 FORT RECOVERY - Setting the tone early with defense and following up with solid shooting, Fort Recovery improved to 11-5 on the season with a 67-36 drubbing of Ansonia in a rare Tuesday night contest at Fort Site Fieldhouse.
The Tigers drop to 7-10 with the loss. Looking to keep Ansonia's 6-8 center Adam Kremer from getting the ball inside against the smaller Fort Recovery squad, the Indians worked the full-court press to their advantage as Toby Metzger got back-to-back buckets off steals to help the Indians go up 7-0 after just 86 seconds of play.
Frank Thien, who has proven to be one of the top defenders in the Midwest Athletic Conference, had eight points off steals in the first half as the Indians led 17-7 after one quarter and 39-18 at the half.
"We wanted to come out and limit Kremer's touches, he's a good big kid. I thought one way we would (limit touches) was to apply some defensive pressure," said Fort Recovery coach Brian Patch, whose team forced 16 Tiger turnovers. "We think we have a pretty good guard in Frank Thien that can bother some people. ... Frank did a pretty good job of pressuring them. The other guys did a great job coming up in the lanes and setting the traps."
Kremer nearly reached his season average of just over 16 points per game with a 15-point night, but was 7-of-15 from the field as Greg Kahlig and other Indian post players kept Kremer fairly in check.
In addition to the defense, the Indians' offense was blistering, shooting 51.8 percent from the field in the contest. Thien was a perfect 6-of-6 from the field while Kahlig was 9-of-13 before getting a curtain call early in the fourth quarter.
"I thought we worked the ball around," said Patch. "We got Greg moving the kids in and (didn't) settle for bad shots."
With the game fairly in hand, Patch cleared his bench, playing all 12 available players on the roster, with 10 of the 12 getting at least one point.
"That was kind of our goal: to try and play well enough so we can rest some guys a little bit, but still play them enough" said Patch. "We would be practicing tonight (if there was no game). We wanted to make sure they got enough time to work on some things, yet it's nice to pull those guys out and they can cheer for the guys who've been cheering them all year."
Kahlig led the way with 20 points, closing to within seven points of reaching the 1,000-point mark for his career. Thien finished with 14 points and recorded six steals.
Fort Recovery stays at Fort Site on Friday night, hosting Marion Local in MAC action.