Saturday, February 14th, 2009
Kahlig hits milestone for Tribe
By Randy Bruns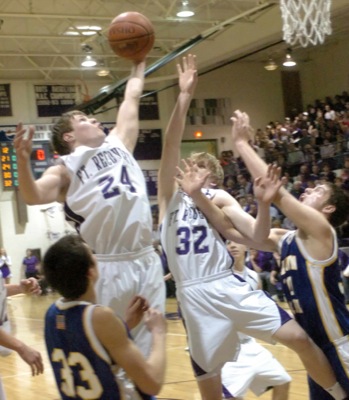 FORT RECOVERY - It wasn't a pretty win for the Fort Recovery Indians, but it was a special night for their star.
The Indians struggled with a feisty group of Marion Local Flyers before prevailing by a score of 53-46, but junior Greg Kahlig made the night memorable by scoring his 1,000th career point.
Fort Recovery improves to 12-5 on the year and 3-4 in the Midwest Athletic Conference, while Marion falls to 4-12 overall and 1-6 in league play.
The game started out at a snail's pace, which seemed to favor the underdog Flyers, who typically prefer to work patiently for a good shot. The visitors found themselves down by eight at 15-7 midway through the second quarter but three-pointers by Tyler Thobe and Jarren Griesdorn helped trim the deficit to three. Kahlig scored on a bunny just before half to put his team up by five, and the bucket gave him his 999th career point.
The junior finally made history early in the third frame when he took an inbounds pass and muscled his way in for a turnaround jumper that went in with a shooter's roll. The game was stopped briefly for a handshake from his coach and a nice ovation from the crowd, and when the dust settled Kahlig buried a free throw for the old school three-point play.
"When we need a bucket he's the guy we're going to go to," commented Fort Recovery coach Brian Patch on Kahlig. "It's not like he's always going to score but he's going to set his teammates up because he gets so much attention from everyone. It was nice to see him get to 1,000 points - it's a great honor for him and he's just an overall great kid."
With the achievement finally behind him Kahlig really started to warm up, as he scored six points in a 9-0 run that extended the Indians' lead to 11 points with a minute left in the third. The Flyers stormed quickly back, though, and pulled within four on a 7-0 run in the span of just 30 seconds right before the end of the quarter.
The Indians led by just six early in the fourth when they made their move to put the Flyers away. Brent Faller's two buckets bookended a 9-0 run that stretch the hosts' lead to 15 points, and it looked like the game was in the bag.
Once again the Flyers had other ideas, as they responded with a 7-0 spree that ended with a three-ball by Troy Prenger. The senior guard later hit another bomb that drew the visitors within six with just over two minutes left, but it turned out to be too little, too late. The Indians knocked down just enough freebies down the stretch to keep the Flyers at bay.
"Their defense is fairly big and difficult to function against," said Marion coach Keith Westrick of the Indians. "I give my guys credit because we were down 11 on the road against a nice team and they could've folded the tents but they never did. The only negative out of tonight was the final score because our effort was an A-plus."
Though he was happy with the win, Patch was disappointed with his squad's inability to maintain the leads they gained during the game.
"It was an ugly game on our part and Marion had a lot to do with that," said Patch. "They're very scrappy and they play extremely hard. Every time we built a lead we would get comfortable and relaxed and they came back and made plays on us. We have to get better with the lead and not make so many mistakes that will let a good team back in the game like what happened tonight."
Fort Recovery gets a week off to prepare for its next game, which is on Friday at Delphos against St. John's. Marion returns to action tonight when the Spencerville Bearcats pay a visit to the Hangar.