Monday, February 16th, 2009
Roberts Town Tavern could lose parking spaces
By William Kincaid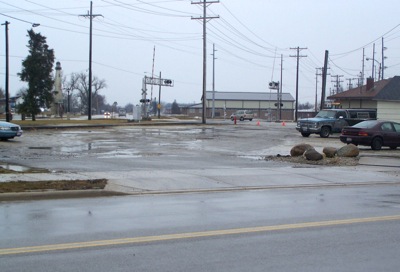 The city of Celina's proposal to lease property from the Norfolk Southern Railway Company could lead to the closing of a parking area used by customers of Roberts Town Tavern, 402 S. Main St.
If approved, it also could stop drivers from using the area to bypass the stop light at the intersection of Logan and Main streets, Celina city council members learned this week.
Councilors passed the second reading of an ordinance to enter into a perpetual lease agreement with the railroad for portions of property on both sides of the railroad tracks abutting Lakeshore Park for $1 a year.
The lease would commence Feb. 1 and continue on a periodic basis, with both sides able to withdraw at any time, according to Celina Safety Service Director Jeff Hazel. Norfolk Southern is not interested in selling the land, he said.
The city wants access of the property to demolish a deteriorating building, clean up the area and provide parking for city vehicles during special events.
Celina Planning and Community Development Director Kent Bryan did not say how much it would cost to demolish the building but said the city may be able to get some money from salvaging steel.
Councilman Ed Jeffries said he was against the initiative if it adversely affected Roberts Town Tavern, especially in the current economic climate. He doesn't want to support legislation that would put the bar out of business by reducing its parking, even though he doesn't drink himself, he said.
Jeffries later changed his mind after learning the city would try to create seven to eight additional parking spots on Logan Street.
Tavern owner Kerry Roberts has no legal claim to the parking area, which is owned by the railroad company, council members learned.
Councilman June Scott pointed out that there's nothing Roberts can say in defense, adding the railroad company could come in at anytime and prevent parking on its land.
There are no squatter rights, councilman Rick Bachelor said.
"He very much realizes that," Bryan said, adding he has talked with Roberts in the past about the situation and will further contact him about adding additional parking along the street.
Council members also discussed how drivers have used the thoroughfare to circumvent the intersection light, especially during heavy traffic or the presence of large trucks.
If the property is acquired by the city through the lease, the north and south entrances could be curbed off - eliminating public access.
Because the area is private property, police officers technically cannot ticket drivers who use it as a shortcut, Bryan said.