Monday, February 16th, 2009
Bath wins first WBL crown; Celina takes third
By Gary R. Rasberry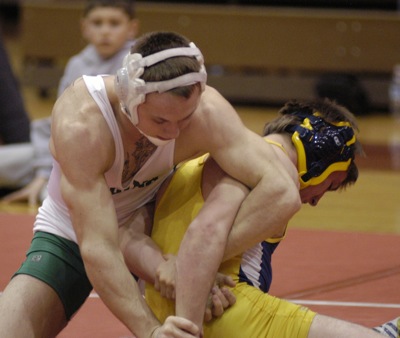 WAPAKONETA - Celina's chances to make a tournament run toward a second straight Western Buckeye League wrestling title hit a few bumps in the road on Saturday as the MatDogs managed just one champion as the WBL held its tournament on Saturday at Wapakoneta High School.
That paved the way for Bath to capture its first-ever league wrestling title with a tournament win to edge out regular season co-champ Wapakoneta for the overall title by a margin of 155-148 in the tournament points.
"That was our goal last year when we were ranked ninth (going into the tournament) and finished fourth," said Bath coach Clayton Westerbeck. "Our goal is (to win) every year. It can happen."
Celina finished third in the tournament with 129 points, but managed just three top-three finishes and two wins in the championship round.
For St. Marys, the Roughriders finished seventh in the tournament standings with 91 points thanks to two championship runs for seniors Paul Lauth and Marcus Neal.
Celina had seven wrestlers competing in the final four on Saturday, with Alex Dues and Adam Cron battling for championships.
Dues, the top-ranked 152-pounder in the Lima Area Wrestling Coaches Poll, had a comfortable day in winning his second WBL title - having won the 145-pound title last season - getting a major decision in his first bout and pinning Wapak's Jon Carpenter in 1:47 to make the finals.
In the title bout, Dues compiled the points on Ottawa-Glandorf's Jeff Siefker before scoring the pin in 3:41 to win his second WBL title.
"It feels really good," said Dues, who has placed in the top three all three years in the WBL. "Working hard all year, I wanted to come out and win it again.
"I just wanted to win because I knew he had weird hips and I had to take control. I knew it was going to be a close one. I was lucky to come out on top."
Adam Cron had a chance to make it two Celina titles in battling Kenton's Chris Arnold in the 103-pound title bout. Arnold got the early advantage and never let up in posting a 5-1 decision.
The third-place bouts did not go over as well for Celina. R.J. Baskett lost to Shawnee's Brady Croft 9-6 in the 112-pound consolation with Curtis Doner falling 7-3 to Kenton's Josh Sheldon. Tyler Temple lost an 8-5 decision to Wapak's Lucas Poppe and Derek Minch had a battle with Wapak's Kenny Long at 160 pounds before falling in a tight 2-1 decision.
The lone win in the consols went to junior Codey Welker, who nearly matched his 27-second pin of Defiance's Nolan Bachellor in the first round when he faced Bachelor again in the third-place 285 bout. Bachellor lasted 10 more seconds before Welker took third with a 37-second pin, allowing Celina to break its tie with Defiance in the tournament standings.
"We really didn't look the best in our final round, but we got enough to pull ahead of the tie we had going with Defiance, which was good," said Doner. "Alex wrestled a good final. Overall, a lot of the finals matches were pretty good, not talking about us, but overall there were some pretty good ones."
For St. Marys, two veterans brought home the gold. Lauth, the WBL's 171-pound champ last season, moved up to 189 this season and cruised. After surviving a 3-2 win over Van Wert's Matt Noggle, whom Lauth beat for the 171 title last season, in the semifinals, Lauth pulled away from Wapak's Tyler Matte to get the 12-5 decision for his second WBL championship.
"Feels great. All the hard work paid off," said Lauth. "(Moving up to 189) was a little healthier, faster and stronger. It made me a better wrestler."
Heavyweight Marcus Neal, who lost a close title match last season, came back and dominated, getting pins of 19 seconds and 1:38 in his first two bouts before finally taking down Kenton's Lucas King in 2:30 to win his first WBL title.
"Past few years, there have been some tough guys (in the weight class) that graduated. I hung with them, but I could never get the championship," said Neal. "This year I got it.
"Early on, I wrestled some younger guys and it was kind of easy. King is a big guy, pretty strong, so it was a little bit tougher. Otherwise, everything went great."
Other Roughrider placers included Tanner Zizelman beating Bath's Tommy Mault for third place at 119 pounds. Sean Barnett lost his consolation final at 135 to Caden Mauk of Wapak while Ben Schamp lost by 7-2 decision to Cameron Harmon of Bath in the 215 consolation.
Celina and St. Marys will see familiar foes as a number of WBL teams will head to Lappin Gymnasium at Shawnee on Saturday for the Division II District Tournament.