Tuesday, February 24th, 2009
Local contingent is excited for chance to compete at state
By Gary R. Rasberry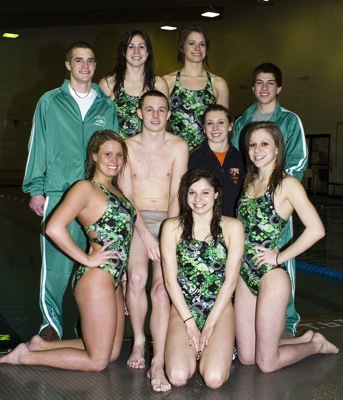 Call them Celina's Fab Five.
Celina girls swim team members Kirsten Samples, LaRae Dorsten, Ashley Coon, Paige Mertz and Courtney McKirnan helped make history last season as the Swimmin' Women made the big board.
Making the big board - the top 12 point leaders - at the state Division II Swimming and Diving State Championships, gave the program its first podium finish in 25 years with a sixth-place showing in the 200-yard freestyle.
The five are back and looking to make a run further up the leaderboard this season with three relays and two individual events up for grabs when Division II prelims begin Friday at the C.T. Branin Natatorium in Canton.
Joining the Celina swimming quintet will be WaterDog divers Todd Hertel and Luke Bonvillian and a pair of AquaCavs from Coldwater, swimmer Sean Anthony and diver Angie Hosbach.
Samples will be exceptionally busy, having won the district titles in both the 50 and 100 freestyles in addition to swimming both 200 and 400 freestyle relays with Coon, McKirnan and Mertz. Dorsten will replace Samples in the medley relay. The three district wins were the first-ever for Celina.
"We definitely have a lot of team chemistry and really get along," said Samples. "That has to do with a lot of success. We're more than just athletes on a team. We're good friends."
McKirnan, who with Samples are the only seniors, thinks that last year's swim to state helped get the team ready for this season.
"Every year we strive to do better," said McKirnan. "We know that being on the podium for the 200 relay last year that we wanted to do even better (this year). So winning the actual event (at the district) was the best feeling and was most of the motivation for going to state. We want to make it to finals in everything."
Solo-wise, Samples is in solid shape to score points and possibly get a spot on the podium. Based on times from the districts, Samples is seeded sixth in the 100 free and ninth in the 50.
"I'm hoping to get on the podium (top eight finish) for a couple of my individual events and definitely leave my mark my senior year," said Samples.
But it's the 200-free relay, the Swimmin' Women's trump event, that will have the most attention. Celina's district time of 1:39.93, which just missed a district record by a half a second, is fourth-best among the 24 qualifiers, ranking up there with perennial state powers New Albany, Gates Mills Hawken and Rocky River.
"Making it on the podium last year really boosted our confidence," said Samples. "We're hoping to place better than we did last year."
The 400 relay is also among the podium contenders, ranking ninth on the psych sheet.
For Dorsten, who will swim just the medley relay and then root her teammates on in the other events, she hopes that she'll get a chance to make the podium after the medley relay finished 15th last season.
"Our time is better this year," said Dorsten. "We've been working hard this year. We just hope we compete better than we did last year."
Coon, who swam at state as a freshman last season, can't wait to compete again.
"The hard work definitely paid off and you can definitely tell by how we won district (in the 200 free relay and Samples' events)," said Coon. "That was a big accomplishment for our relay."
WaterDog divers looking to continue tradition
For the first time in team history, Celina will send two male divers to state in the same season.
Hertel, the two-time reigning Western Buckeye League champion, and Bonvillian had strong district meets and will look to carry on the tradition set by a pair of previous WaterDog state divers Michael Grapner (a three-time state qualifier) and Eddie Craft (two-time state qualifier).
"It's been a great year. It was everything I was expecting and hoped for," said Hertel. "My major goal was going to state. I'm just excited and ready for it."
Working with and competing against each other at meets have helped the pair work hard toward their goals.
"He's been like that (squeezing the thumb and index finger close together) much better than me, but we've always been neck and neck," said Bonvillian.
"It's great we're going together," said Hertel. "We'll help each other out up there. Keep each other focused and do what we need to do."
Both Hertel and Bonvillian have the advantage of working with diving coach Dave Koesters, who guided Grapner and Craft to state.
The WaterDog duo will dive at 2 p.m. on Wednesday.
Anthony, Hosbach pacing AquaCavs
A bit of history brings Sean Anthony and Angie Hosbach to Canton this week. Anthony is the first Coldwater swimmer since Tyler Post in 2004 to qualify for state, while Hosbach is not only the first female AquaCav, but the first diver in team history to make the trip.
"Since Tyler, it's been 'Who's next? Who's going to step up?" said Anthony. "We all want to get there and be there. I just picked it up this year and it turned out well."
Anthony, who is strong in everything from backstroke to butterfly, swims the all-around individual medley - 50 yards each of backstroke, breaststroke, butterfly and freestyle.
"My Y coach always said it was four sprints. That's how I think of it," said Anthony. "My time has been good enough to get there."
When it comes to goals, Anthony, who said he knows that his time is 24th out of 24 qualifiers, has nothing to lose.
"Right now, I have nothing to lose and everything to gain," said Anthony. "If I get into the finals, that's what I'm shooting for."
A veteran diver during the summer season, Hosbach talked to some teammates into putting in a diving team to go with the swim team this season. Theresa Hosbach, Angie's mom, handled the dive coaching chores.
"I really didn't expect it to happen," said Hosbach. "We just threw the team together at the last minute this year. Bunch of us wanted to try it out. This year was an experiment for all of us, how things would work out having a dive team."
Getting to districts, Hosbach was just looking to put together a good performance. Getting one of the state qualifying spots was not on her list.
"I really did not expect that to happen," said Hosbach. "I just wanted to have fun. I was in a pretty solid fifth place after the first two cuts (the top six advanced to state), so I knew going into the last cut if I stayed strong, I would be okay to make it to state."
Hosbach doesn't know what to expect on Wednesday at Branin Natatorium.
"I'm just going to think of it as another dive meet and do what I've always done," said Hosbach.