Wednesday, February 25th, 2009
Minster's defense shines in tournament opener
By Mark Ruschau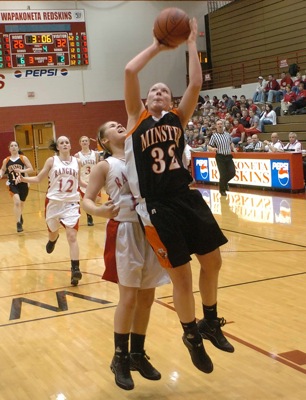 WAPAKONETA - Veteran Minster basketball coach Nann Stechschulte is a devotee of motivational quotes for her squad, so much so that she jokes that her girls sometimes get tired of her using them.
One of Stechschulte's favorite bromides comes from Tennessee coaching legend Pat Summit: "Offense sells tickets, defense wins games and rebounding wins championships."
On Tuesday night, Stechschulte's girls did a little of each - offense, rebounding and playing defense - as Minster outlasted Auglaize County rival New Knoxville, 38-33, in the opening round of the Division IV sectional tournament at Wapakoneta High School.
Minster will take a 15-6 record to Saturday night's sectional final against number-two seeded Fort Recovery. New Knoxville ends its season at 11-10.
On the defensive end, Minster did a great job holding the Rangers to just 33 points on 13-of-32 shooting, including just 3-of-10 from three-point range. The Wildcats did an admirable job on New Knoxville leading scorer Morgan Reineke, holding her to 15 points on 15 shots.
"Obviously it is nice to hold a team to just 33 points, especially a team like New Knoxville," said Stechschulte. "Reineke is a tough matchup for anyone and I thought we did a nice job of making her earn her points. Defensively, I thought both teams gave a great defensive effort and I would not have expected anything else when these two teams get together."
"Give Minster all the credit tonight for a great defensive game," said New Knoxville coach Tim Hegemier. "They made us hurry offensively and they made it tough for us to get out of our cuts. They limited our open shots, they really did a solid job defensively."
Coinciding with their great defensive effort, Minster did a great job on the glass on both ends of the floor. On the defensive glass, Minster pulled down 17 rebounds and allowed New Knoxville just four offensive rebounds for just three second-chance points.
On the offensive glass, Minster pulled down 11 offensive rebounds, which it turned into 14 points. Becca Steinemann led the way for Minster on the boards with a game-high eight. Kara Monnin grabbed six and Delaine Wolf chipped in five.
"It is always an advantage when you can hold a team to just four offensive rebounds," said Stechschulte. "We always talk about rebounding and how important it is to winning, so much so that the girls get tired of hearing me preach about it, but if tonight was any indication, they are listening to me about it."
On the offensive end, the Wildcats struggled shooting the ball but they were still able to find enough offense to pull off the win. Minster hit on just 12-of-30 shots from the floor, but they were able to hit four-of-seven from three-point range. The Wildcats also did a good job shooting free throws, hitting 10-of-15.
Minster shot the ball well in the first half hitting on 7-of-15 shots, including all four of its three-pointers, allowing the Wildcats to build a 22-15 lead at the half, a lead they never relinquished.
Monnin led the way with a game-high 15 points and Wolfe added 10.
"I thought tonight showed that we were able to play a patient game, moving the basketball," said Stechschulte. "Even though Becca Steinemann did not score a point, I thought she was key because when we threw the ball into her, they would collapse on her and that allowed Delaine and Kara to get some open looks.
"Kara did a great job of getting us started with her 10 points in the first quarter," continued Stechschulte. "Kara hit some big threes and Regan Arnold came off the bench and added a big three."