Monday, March 2nd, 2009
Celina relay takes third at state meet
By Gary R. Rasberry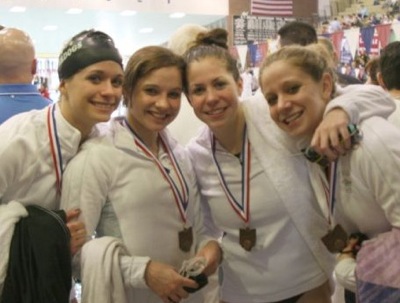 The Celina girls swim team found themselves up a few steps on the podium on Saturday at the Division II State Swimming Championships in Canton.
A year after finishing sixth, the 200-yard freestyle relay team of Kirsten Samples, Courtney McKirnan, Ashley Coon and Paige Mertz posted the highest-ever finish in school history in taking third on Saturday in the championship heat at C.T. Branin Natatorium.
The previous best finish for a Bulldog swimmer came from Judy (VanderHorst) Sichertman, who placed fifth in the 100 butterfly at the 1981 state meet, before it was a varsity sport at Celina.
"When we qualified third for prelims (on Friday), we knew we wanted to keep our spot and try to get better," said McKirnan, via telephone on Saturday, who with Samples were the lone seniors of the five - LaRae Dorsten replaced Samples in the medley relay that also qualified for state. "Being top three in the state is one of the best feelings. It's a good way to end our senior year."
After swimming a 1:40.35 in the prelims, the 200 relay came back with a stellar time of 1:39.73 in the finals, just two seconds off the pace of winning New Albany. The finals time was faster than their winning time at districts and set a new school record.
"Going into the relay, we were really excited and really pumped," said Mertz, who swam the third leg of the relay. "We just wanted to get into the top three. When we ended and (saw we) got our best time and in the top three, we were all really excited."
"Words can't even describe how I feel right now," said Coon, who swam the second leg with McKirnan and Samples swimming the first and final legs. "We just came into that 200 freestyle knowing we wanted to make top three and we came in with a lot of confidence. Knowing we have two seniors on our relay, we wanted to go out with a bang. That's what we did and came out with some medals."
The day in general was solid as the Swimmin' Women scored 54 points, finishing 13th as a team in the meet. The score was three points less than last year's 57, which was good for 12th.
"Scoring points and being on the board is a major accomplishment," said McKirnan. "Last year was the first year we got to do that. We're glad to be able to come back and do that again."
In all, the team added three other top 16 (scoring) finishes. The 400 relay, the same crew as the 200 relay, finished 10th in B-Final action with a time of 3:42.6.
"We went into the 400 feeling confident and wanted to end our season on a high note," said McKirnan.
Samples also earned B-Final status in the 50 and 100 freestyle individual events, tying for 12th with a time of 24.96 seconds, then taking 13th with 54.71.