Monday, March 2nd, 2009
Indians, Cardinals pull out tough wins
By Mark Ruschau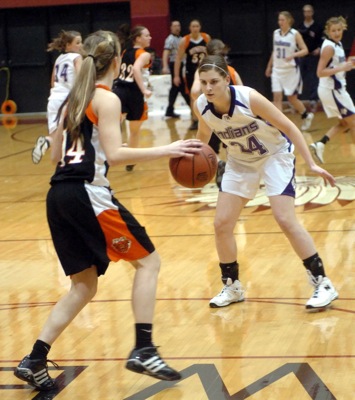 WAPAKONETA - For the fans that paid their seven dollars to watch the Division IV girls sectional finals on Saturday night at Wapakoneta High School, they were treated to a full night of Academy Award worthy drama as they saw one game where revenge played a special role and they also saw a resurrection worthy of any horror movie in the other.
In the opening contest, the number-two seeded Fort Recovery Indians settled a score with Midwest Athletic Conference rival Minster defeating the Wildcats 44-34 to revenge a loss from the regular season, that eventually cost them a piece of the MAC title.
In the nightcap, the New Bremen Cardinals rallied from 15 points down in the fourth period to stun the Marion Local Flyers 48-45.
In district play on Thursday at Van Wert High School, it will be Fort Recovery taking its 16-5 record up against Delphos St. John's at 6:15 p.m., while the second game will feature a matchup of two of the top teams in the state in Division IV. In the 8 p.m. nightcap, the number-one state ranked Crestview Knights (21-0) will take on the number-three state ranked New Bremen (21-1).
Fort Recovery 44, Minster 34
In a game where both teams struggled offensively, Fort Recovery was able to find its offensive stride for a five-minute stretch in the third period to pull away from the Wildcats.
In the first 16 minutes, to say that both teams struggled offensively is an understatement as Fort Recovery hit on just 8-of-21 shots and turned the ball over 11 times while Minster hit on just 4-of-11 shots and turned the ball over eight times.
"I thought we played great defense tonight," said Fort Recovery coach Doug Bihn. "We wanted to force them into an up-tempo game, because we thought we were deeper than they were and we were able to do that with our pressure.
"I thought we played a real physical game tonight as well," continued Bihn. "We were hungry tonight, they beat us earlier and (we) were able to beat a very good Minster team."
"Fort Recovery just came out tonight and knocked us on our butt defensively," said Minster coach Nann Stechschulte. "They were more physical than we were, they got in our shorts and all we had to do was turn the corner and go to the basket but we just settled for jump shots."
Trailing 17-8 at the half, Minster came out and scored eight of the first 10 points of the third quarter to pull to within two, 19-17, on a basket by Erica Fullenkamp, three minutes into the second half.
That was as close as the Wildcats came as the Indians scored nine of the final 11 points of the period to retake control with a 28-19 advantage after three periods.
Joanna Snyder canned a big three and Nicole Pottkotter added five points to pace the Indians' run.
"They were able to beat us deep against our pressure for a score and then Snyder hit a three-pointer and both of those plays were huge," said Stechschulte. "Two big numbers for us were that they had 10 offensive rebounds and they scored 14 points off our turnovers and both of those numbers are not typical of us."
"We were finally able to get a little bit of offense going and were able to get on a roll a little bit," said Bihn. "I am so happy for these girls, they have really worked hard."
Snyder led Fort Recovery with 12 points and Fullenkamp led Minster with 10 points.
New Bremen 48, Marion Local 45
For those who were not in attendance on Saturday night, the best way to summarize the dramatic rally by New Bremen, are the words of Marion Local coach Treva Fortkamp as she saw her squad play three solid periods of basketball to take a 41-26 lead into the final period. But then, things went terribly wrong as the Cardinals outscored them 22-4 in the final eight minutes to snatch the win.
"I guess tonight was just not meant to be," said Fortkamp. "We worked hard and outplayed them for 24 minutes and then eight minutes killed us."
The Flyers indeed did dominate the first 24 minutes as they hit 17-of-37 shots from the floor and turned the ball over just six times.
On the defensive end, the Flyers held New Bremen to just 26 points in three quarters of play and forced eight turnovers.
"I really do not know what I was thinking when we were down 15 in the fourth quarter. Yes, I remember what I was thinking, but I cannot really tell you," said New Bremen coach Dave McFeely. "One thing that I did know at that time was that the girls were not going to quit playing and it was great to see them rally.
"Tonight is just another step along the way for these girls," continued McFeely. "We have played three overtime games this year and we have struggled in some games and we have had our backs to the wall before and this was just a great win."
New Bremen trailed by 14 points with six minutes left, 45-31, when the Flyers Erin Brand hit two free throws. That was to be the end of the Marion Local offense as the Flyers went on to miss four shots from the field, two free throws and turned the ball over nine times in their final 13 possessions.
While the New Bremen defense was doing its job, the Cardinal offense came alive as well hitting 7-of-11 shots from the floor, including a perfect three-of-three from three-point range in the period.
Jaclyn Dabbelt and Stacy Timmerman scored on back-to-back trips to pull the Cardinals to within 10 points at 45-35 with 4:34 left, forcing a Flyer timeout.
After the timeout, New Bremen cut the deficit in half, 45-40, in the next two minutes on a lay-in by LeAnn Topp and a three-pointer by Taylor Jones.
After an exchange of turnovers, Timmerman hit one-of-two free throws to bring New Bremen within four points at 45-41 with 69 seconds left. After another exchange of miscues, Topp brought her team to within one at 45-44 as she canned a three-pointer with 42 seconds left.
On the ensuing inbounds play, New Bremen double-teamed the ball in the corner forcing a bad pass which was picked off by Michelle Griesdorn, who rolled to the basket and scored to give her team their first lead since the first period, 46-45, with 26 seconds left in the contest.
On the Flyers' next possession, Margaret Wuebker threw up a runner in the lane with 11 seconds left that went off the glass and the rim and was grabbed by Brand who was fouled with seven seconds left. Brand, who had hit all five of her previous foul shots in the game, missed both free throws with Topp grabbing the rebound.
Topp, was fouled and the senior hit both free throws to set the final score.
"We were able to put pressure on them and we were able to get some points off the pressure," said McFeely. "When Michelle hit that big basket to give us the lead, I finally knew things would be all right."
Topp led New Bremen with 15 points and Brand paced the Flyers with a game-high 21 points.