Wednesday, March 4th, 2009
A new center for getting fit
By Christine Henderson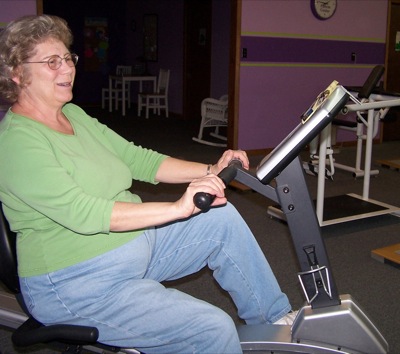 A woman's exercise center in downtown Celina has changed ownership.
The former location of Curves is now Ladies' Fitness Center, owned by Mary Ann Elking of Celina. The center at 218 W. Fayette St. offers a dressing room, cooling room and hydraulic equipment for low impact exercise in a 30-minute program. The machinery is for aerobic and strength-building, the new owner said.
Currently, the center has 14 pieces of Curves equipment, though Elking was not sure this equipment would remain since she is not continuing the franchise. She does hope to have other low-impact equipment soon. The new equipment will be operated by hydraulics but with dials to change the tension. Existing equipment is not adjustable.
A new addition already is a stationary, recumbent bike.
"The ladies just love it," Elking said about the bike.
Women participating in the fitness program make three rotations of the 30-second stations. The exerciser moves from one machine to the next with a break in between each machine for 30 seconds of jogging. Playing in the background is music, which also includes prompts to move to the next station.
"We are starting a weight-loss support group April 1," Elking said.
The weekly group, with center manager Vivian Hodge, will be open to all women, not just members. Anyone interested can call 419-584-0555.
Right now the center is only for women but Elking is looking into having a few hours a week for members and their husbands or significant others.
Elking said she has never before operated a fitness center, though she has business experience from operating Paul's and Northside furniture stores with her husband, Paul. She and her husband own the building housing the fitness center.
When Curves closed, Elking said, "I decided I didn't want to lose the fitness center because it is a good thing."
Many women would have had to travel further for a similar program and could not gather for socializing, she said. Elking's center has an enrollment cost and monthly fee with a flexible contract, she said. Paid-up Celina Curves members do not need to pay a sign-up fee currently.