Wednesday, March 4th, 2009
Panthers and Flyers fall in overtime thrillers
By Gary R. Rasberry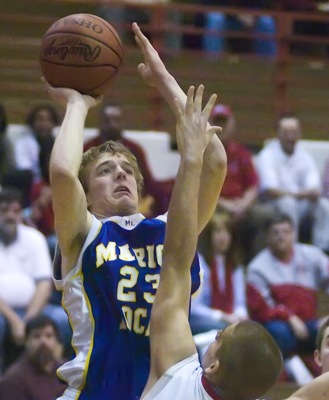 WAPAKONETA - The outlook for an All-Midwest Athletic Conference Division III sectional finals at Wapakoneta High School on Friday was dimmed by a pair of classic overtime thrillers on Tuesday night.
In game one, Parkway rallied back from a nine-point deficit to force overtime against Spencerville. It took two overtimes before Spencerville dispatched the Panthers, 77-72.
The nightcap was just as exciting as Marion Local got a three-pointer with 13 seconds left in regulation to tie Lima Central Catholic. LCC recovered to hold off the Flyers 56-52 in overtime.
The Northwest Conference vs. MAC matchups on Friday pit the 9-12 Bearcats against top-seeded St. Henry (17-3) at 6:15 p.m. The second game features LCC, the NWC champs at 16-5, against second-seeded Coldwater (14-6), with the winners moving on next week to the Elida Fieldhouse for district play.

Spencerville 77, Parkway 72 (2OT)
Both teams came out shooting over 50 percent in the first half as Spencerville held a 35-34 lead. The Bearcats came out firing to start the second half, going on an 8-0 run early to raise the lead to 43-34 with 21/2 minutes gone in the quarter, Parkway worked its way back to tie the game early in the fourth quarter at 49-all, but received a scare as Josh Fisher was shaken up in colliding with a Spencerville player, leaving the game with 6:12 with four fouls.
Fisher came back just under two minutes later and Parkway got the lead at 53-51 with a Zach Bates bucket. Spencerville tied the game back up on a Zach Bowers steal and layup with 3:43 left and Daniel Rider put the Bearcats up 55-53. Spencerville raised the lead to four points with two minutes left, but Parkway worked its way back as Fisher scored three straight points.
After Spencerville grabbed the lead at 59-56, Bates made the front end of two free throws to cut the deficit to two points. Rider had a chance to ice the game by going to the foul line with 15 seconds left, but missed the front end of a one-and-one. Parkway called a timeout with 9.2 seconds left and set up a play. Fisher got the ball near the inbounds and went to the backside, moved down the baseline and got the layup to fall with two seconds left to tie the game. Bowers' three-pointer from halfcourt did not go sending the game to OT.
"I thought we did a nice job getting back into it," said Parkway coach Doug Hughes. "I thought we executed well there late in the game."
"He is such a good basketball player. A good athlete," said Spencerville coach Kevin Sensabaugh on Fisher. "He's fast, quick, can shoot and dribble. He does it all. There's no way we could shut him out."
The teams traded baskets early in the overtime, with Parkway snagging a 65-61 lead midway through the four-minute session. The Panthers were leading 67-64 with 40 seconds left with a chance to make it a two-possession game, but the Panthers missed a pair of free throws as the Bearcats got the rebound. Bowers came down and sank a three-pointer with 28 seconds left to tie the game. Parkway missed the last-chance shot to win the game.
The teams traded leads in the second overtime, with Spencerville taking the lead for good on a Trevor Hardeman bucket with 62 seconds left. Parkway had several chances to tie, but the Bearcats got insurance points from Tyler Keysor and Bowers to end the game.
"The second overtime, our execution stunk. We missed free throws," said Hughes. "We had chances to win the basketball game and we didn't take advantage of it."
"They had a sense of urgency we haven't had all year," said Sensabaugh. "I hope they keep playing with that because it's a whole lot of fun to watch."
The loss spoiled a great game in what would become the finale for Fisher, the all-time leading scorer at Parkway. Fisher scored 31 points to lead all players while Bates added 17 points and Levon Archer scored 13.
Keysor led Spencerville with 28 points and 13 rebounds. Bowers added 19 with Hardeman scoring 12.

LCC 56, Marion Local 52 (OT)
As in the opening game, both teams started out even with Marion holding a 30-25 lead at halftime thanks in large part to 12 first-half points from Jason Wolters, who made his first five shots of the game.
The Thunderbirds rebounded to start the third quarter to take a 34-30 lead as Sam Stolly hit a pair of three-pointers. The Flyers tied the game at 36-all, but LCC went back out by four points shortly thereafter.
With 1:15 left in regulation, Troy Prenger hit a free throw to cut it to 48-45. LCC had a chance with 40.5 seconds left to make it a two-possession game, but Desi Kirkman missed the front end of a one-and-bonus situation. Luke Bertke got the rebound and the Flyers worked the ball around to Tyler Thobe, who banked in a three-pointer with 13.8 seconds left to tie the game.
"I thought we stayed composed and ran our offense well," said Marion Local coach Keith Westrick. "We never really panicked or took some silly shots or anything. It was a well-played game on both parts."
"I thought we defended well and got the shot we wanted them to take," said LCC coach Bob Seggerson. "When the ball went in, I went 'Well, this just isn't our night.'"
Kirkman, the NWC Player of the Year, tried to drive the lane but slipped, passing the ball to O'Connor for a last-second bucket that just missed.
The Flyers kept the momentum up at the start of overtime as Bertke scored. Three straight LCC free throws, two of them coming when the Flyers were called for an offensive holding foul while taking the ball out, gave the T-Birds a 51-50 lead before Nathan Thobe scored a bucket to put the Flyers back up at 52-51.
Unfortunately, that would be the final Flyer points of the game as Kirkman scored a runner to put LCC up 53-52 with 73 seconds left. The Flyers had chances to tie or take the lead but missed a key set of free throws and several other shots as LCC iced the game.
"It was just one of those games where the little play was going to make the big difference," said Westrick. "The offensive foul called on us taking the ball out of bounds was a huge call. We're up one and they call my guy for holding. That's the type of game it was: one play or another was going to sway the difference of the ballgame. We had a couple opportunities at the end when we had free throws to pull back in it or even distance them."
"In a game that was not, really, a well-played game by us on either end of the floor, I think what showed up tonight was our heart," said Seggerson. "We just had a lot heart and kept battling back and won the game.
"I don't know what do say. I do know we have a tough game sitting in front of us on Friday night. We know that the game we played tonight won't work Friday night."
Wolters finished with 23 points while Nathan and Tyler Thobe added 10 each.
Kirkman scored 20 while Sam Stolly added 15 for LCC.