Wednesday, March 11th, 2009
Rangers survive but Indians gets bounced out
Unbeaten and top-ranked New Knoxville faces Ada on Friday for district crown
By Gary R. Rasberry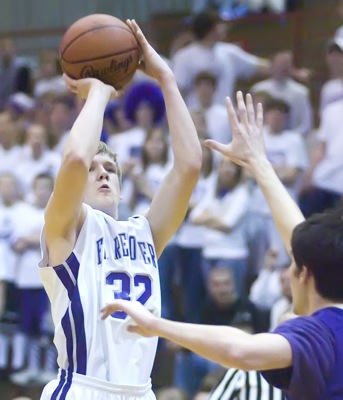 WAPAKONETA - For the defending state champion New Knoxville Rangers, it was a battle for survival.
For the Fort Recovery Indians, it was a struggle all night.
The Rangers held off a feisty Temple Christian squad to stay alive in the tournament and advance to Friday's Division IV district title game with a 44-35 win over the Pioneers in the opening semifinal game at Wapakoneta High School.
The Rangers (22-0) will face the Ada Bulldogs after Ada (19-3) handed the Indians a 56-40 defeat in the nightcap to end the Indians' season.
Ada and New Knoxville will meet Friday at 7 p.m. for a berth in the Kettering Fairmont Regional next week. New Knoxville beat Ada in the team's meeting this season, holding on for a 60-54 win at Ranger Gymnasium.

New Knoxville 44, Temple Christian 35
The Pioneers, who lost 72-39 earlier this season to New Knoxville, set the tone right away by slowing down the game and trying to keep the ball out of the Rangers' hands as much as possible.
The end result was New Knoxville shooting the ball just 24 times in the game and never really having a chance to put the game away against Temple.
"Obviously, for us to have a shot, we were going to have to limit the possessions and just try to score the high percentage," said Temple Christian coach Bruce Bowman. "Defensively, our goal was to make them earn everything, take away easy shots and make them shoot jump shots over us. At times we did that."
After shying away from going inside to Brad Piehl in the first quarter, which would have taken advantage of a sizable height advantage, Piehl began to find his mark in the second quarter, scoring all eight of the Rangers' points as Temple went from trailing by 10 at the end of the first quarter to being down only 24-20 at the break.
"We had open looks from the perimeter and we shot them," said Rangers coach Dan Hegemier. "We dropped a couple, but you've got to go with the horse that brought you to the dance (Piehl). You have to throw the ball inside. When we did, we were successful."
In the third quarter, both teams turned up the defense. The Pioneers allowed just seven Rangers points. Unfortunately, Temple did not score a point in the third period, attempting just one field goal try in the stanza as the Rangers looked to put the game away by leading 31-20.
"Cody Horstman came and out and 'turned them', a term we use," said Hegemier. "We had them turning a little bit more and playing a little bit harder."
Just when it looked like New Knoxville was going to put the game away, Temple Christian came back and began to hit sots, getting as close as 38-32 with 1:52 left in the game, but Ryan VanderHorst nailed six straight free throws in the final 68 seconds to ice the game.
"It's a good win. I'm not surprised it happened like that," said Hegemier. "I thought our kids had a lot of composure."
"The difference in this game was Brad Piehl and the ability to get the ball inside to him," said Bowman. "He went to the line a lot (6-of-9 from the stripe) because he's earning it down there. That was one of the differences in the game."
Piehl finished with 16 points to lead New Knoxville while VanderHorst added 12 with Austin Arnett scoring 11.
Tyler Sutton had 14 for Temple Christian (10-12) with Shane Holloway scoring 10.
Ada 56, Fort Recovery 40
A hot shooting start for the Bulldogs and tight defense allowed Ada to jump to a 15-5 lead after one quarter and a 23-15 halftime lead. The Indians could not get much closer than eight points for the rest of the game.
"What set the tone early was they hit some outside shots," said Fort Recovery coach Brian Patch of Ada. "When they did that, we had to play from behind and their game plan probably changed a little bit. If they don't hit those shots and we get a lead, they probably would have played a little different.
"They hit those shots and were able to spread the floor on us early. For us, that's not the way we want to play."
Ada kept pressure on Indians leading scorer Greg Kahlig, keeping players like Aaron Cross, Heath Jackson and Mitchell Faine on him for most of the game. Kahlig was 4-of-9 from the field and finished with 12 points, half of his season scoring average.
"We did a great job on Kahlig," said Ada coach Chris Sautter. "He's a great player and to hold him to 12 points. It was good team defense. Whether it was Aaron with his legs or Mitchell or Heath's quickness. Every time he drove, 2-3 other guys were there to help on him. He earned every point. He's a helluva player."
"That's probably the best job we've been defended all year, especially with Greg," said Patch. "Cross did a great job on him, making it tough on his shots early on. (Kahlig) is averaging half our points. When your gun is struggling a bit, you're struggling."
Ada got scoring from nearly every part of the lineup. Faine led the Bulldogs with 14 points with Cross adding 12 and Konnor Baker scoring 11.
"Our kids stepped up tonight," said Sautter. "We talked about, going in, that this would be a physical ballgame, and I think it was (33 total fouls called). I thought our kids responded very well to the challenge."
Toby Metzger completed a fine career at Fort Recovery (14-8), scoring 13 to lead the Indians. Kahlig finished with 12 and pulled down a game-high seven rebounds.