Thursday, March 19th, 2009
Cavaliers take control early and roll to victory
By Gary R. Rasberry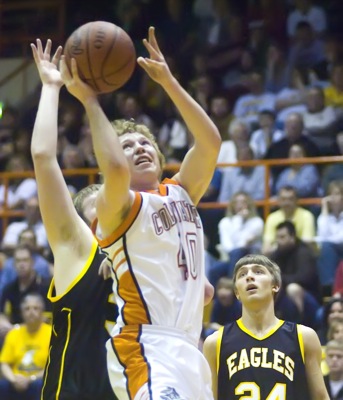 BOWLING GREEN - It didn't take long for Coldwater to show that they were ready for the regional tournament.
The Cavaliers started their Division III regional semifinal game with a 23-7 run and never looked back in dispatching Colonel Crawford, 51-29, at Anderson Arena on the campus of Bowling Green State University on Wednesday evening.
Coldwater (18-6) will face Tinora on Saturday night at 7:30 p.m. for a berth in the state semifinals in Columbus. The Rams (21-3) rallied from a 21-15 halftime deficit to defeat Cuyahoga Valley Christian Academy 36-34 in overtime in the opening contest.
There was no threat of overtime for the Cavaliers, who shrugged away an early Eagles (21-3) threat that had the game knotted at 5-all. Coldwater proceeded to go on an 18-2 run as all facets of the Cavaliers offense were in motion. Eric Lefeld, Keith Wenning and Zach Siefring all contributed, as did Luke Grieshop off the bench. Coldwater was 6-of-12 from the field in the opening quarter and was 13-of-23 from the field in the first half.
"We were able to be patient on offense and work for good shots (and) wear them down a little bit," said Coldwater coach Mike Kanney. "I know they weren't as deep and didn't play as many guys. Toward the end of the ballgame, they were pretty tired."
Coldwater cranked up the pressure with a three-quarter court press and strong defense in the halfcourt, putting a lot of emphasis on first team all-district player Austin Smith, who averaged 18.2 points per game during the regular season. Smith was held to just 11 points and Coldwater forced 12 Eagles turnovers during the game.
"Smith is a very good player," said Kanney. "I knew he averaged 18 a game. Our goal was to try and keep him under his average. Our kids did a good job of finding him, getting hands up on him, giving help."
"I think we had key turnovers that led to points for them," said Eagles coach Dave Sheldon, a reference to the 15 points Coldwater scored off Crawford turnovers. "Their physicalness sort of got to us on our offensive end and got us out of rhythm a little bit.
"That's the most physical ballclub we've played all year. There's a reason they've beaten the number two (Liberty-Benton) and number five teams in the state (Ottawa-Glandorf) - and defending state champ - to get here. That's good fundamentally sound basketball."
The stat that made Kanney most happy was in the turnover department for his Cavaliers. Coldwater committed just one turnover in the first quarter, then played spotless the rest of the way.
"I thought our kids did a great job of holding the ball strong and executing in the halfcourt," said Kanney. "We talked about, coming into the game, about getting off to a good start and making sure we defended them well."
Lefeld paced the Cavaliers with 13 points and pulled down seven rebounds. Wenning added 12 points, eight boards and dished our four assists. Adam Rammel added nine points.
"We knew coming in that the Lefeld kid was going to be a load," said Sheldon. "We doubled him and knew we had to give something. They hit a couple threes early. That's a good fundamentally sound team there."
Now the Cavaliers face the Rams, winners of the Green Meadows Conference this season. The Rams are paced by second-team all-district selection Jon Gerken (6-6, senior), who had 11 points in the win over CVCA on Wednesday. Other key players in the win on Wednesday for the Rams were Taylor Wiemken (eight points) and J.R. Wuo (six points).
"I know they're well-coached and very disciplined," said Kanney. "They really defend well. If we have one turnover after that game, I'll be very pleased.
"When I got here, I came with the team and had scouts here at the game, they were down six. They came out in that third quarter and started knocking down shots. They have guys who can hit the perimeter shot if you leave them open. We'll have to make sure we guard them."
TICKETS: Coldwater will begin selling tickets tonight for Saturday's regional final. From 5:30-6 p.m., parents of team members can purchase tickets with a limit of eight per family. Season ticket holders can purchase tickets from 6-7 p.m. with a limit of two per season ticket.
Remaining tickets will be sold Friday from 8 a.m. to 5 p.m. and from 10-11 a.m. on Saturday. All tickets will be sold in the high school office.
Tickets are $6 presale and $8 at Anderson Arena. Coldwater receives a portion of the presale only.