Friday, March 20th, 2009
Million dollar-plus donation
Mercer County Civic Foundation gets big boost
By Shelley Grieshop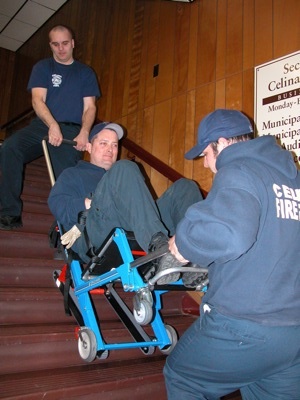 A local organization has received its biggest donation ever - more than $1.3 million - to fund future medical needs throughout Mercer County.
The Mercer County Civic Foundation recently was handed the donation from the Mercer County Health Care Foundation, which began in 1979 and recently ceased operating as an individual organization. The health care foundation gave all of its remaining funds to the civic group.
The health care foundation was a non-profit organization that formed to find local people interested in building and staffing a medical facility in Celina after two hospitals - Otis and Gibbons - closed.
"They were very concerned there wouldn't be good enough health care in Mercer County," said Glenn Hux, executive director of the civic foundation.
The group's goal came to fruition when the Celina Medical Center was constructed on Pro Drive. The building was first rented to the Caylor Nickel Clinic of Bluffton, Ind., and Joint Township District Memorial Hospital, St. Marys. In 2006, Joint Township hospital purchased the building, and in 2008 began sharing the facility with Mercer Health, parent company of Mercer County Community Hospital in Coldwater.
Money from the sale of the medical center and interest collected through the years was still being used by the health care foundation to make donations to the community. Since 1995, the health care foundation has given more than $630,000 to a variety of agencies focused on medical care, such as the Council on Aging, area emergency squads, Sources Community Network, Mercer County Hospice, the Cancer Network of West Central Ohio and others.
Receiving such a large donation was overwhelming, Hux said. The civic foundation currently has no big plans for the $1.3 million addition to its coffers.
"We were elated to get this gift," he said.
The Mercer County Civic Foundation currently has more than $7 million in assets and each year distributes money to many charitable organizations, community projects, scholarships and student loans. The foundation has awarded more than $5 million in grants since its start in 1963.
The original trustees of the health care foundation were: E.G. Brands, Joe Brandes, Dr. Louis Finkelmeier, John Irmscher, John Porch, Dr. Richard Ramsey and William Meikle.
Current trustees - Karl Allmandinger, Phillip Fullenkamp, Irmscher, Harley Jones, William Montgomery, Ramsey and Meikle - now will serve on the civic foundation advisory committee and help steer donations to areas they believe will benefit the most.
Donations for the civic foundation can be sent to the Mercer County Civic Foundation, P.O. Box 439, Celina, OH 45822.