Wednesday, April 1st, 2009
Smith's dinger wins it for Flyers
By Mark Ruschau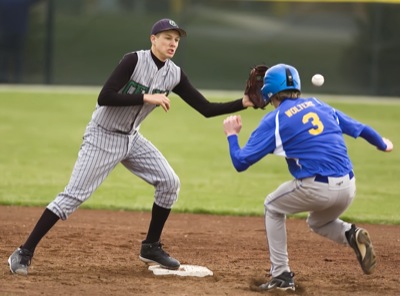 MARIA STEIN - The Marion Local Flyer baseball team evened their record at 1-1, rallying late on a Ben Smith two-run home run to defeat the Celina Bulldogs, 8-7, in a wild non-league matchup on Tuesday.
Coming off a heartbreaking loss to Greenville on Monday night in their season opener, the Flyers were able to come away with the win after coughing up an early 6-0 lead.
Celina rallied to tie the game at 6-6 in the top of the sixth, but Marion Local rallied with a pair of its own to retake the lead in the bottom of the inning.
Troy Prenger led off the Flyers' half of the frame with a bunt single and stole second. After Tyler Thobe flew out, Ben Smith blasted a pitch from Celina's Zach Gray over the fence for a two-run home run giving his team an 8-6 lead.
Celina made things interesting in the top of the seventh as Jeremy Kerr took the first pitch from Marion Local's Marcus Moeller out of the park to straight away centerfield to cut the Flyers' lead to one run. After Gray and Chad Schumann went down on strikes, Moeller hit Caleb Shreves with a pitch and walked Kale Knapke before giving up an infield hit to Jared Bader to load the bases. Moeller then ended the game by inducing Darin Waterman to fly out to shallow right.
"One of my coaches asked me late in the game how my blood pressure was. That was the type of game this turned out to be," said Marion Local coach Greg Bruns. "This was a great win over a great program. My hats off to Celina, with the way they battled back and made a game out of this.
"I was happy with the way hit the ball tonight," continued Bruns. "Hitting comes down to repetition and tonight shows that the kids have worked hard and now we just have to continue to improve each at bat the rest of the season. We were able to get some things done with our small ball and that put us in the position to be able to drive in runs with big hits and we were able to produce in some situations."
"In the bottom of the sixth you saw what happens when you fall behind 3-0 (in the count) to a bopper," commented Celina coach Drew Braun. "When you fall behind to a hitter that has played as long as Ben Smith has, you are asking for trouble and he showed why."
Smith's heroics were necessary because Celina was able to put together back-to-back three-run innings to get back in the game. In the fifth, Schumann walked and Knapke singled and they both road home on a double by Waterman. Then, Waterman scored the third run of the inning when a third strike got away from Smith and then Smith's throw to first got far enough away from first baseman Monte Imwalle to allow Waterman to score.
In the sixth with two outs, Knapke reached on an error, Bader was hit by a pitch and Waterman beat out an infield hit to load the bases. Brockly then cleared the bases with a double to the base of the fence in rightfield.
"I thought Troy Prenger pitched well early," said Bruns. "As the game went on, good hitters like the Celina kids were able to get some timing down and they were able to get to him a little bit."
"I guess you can attribute part of our comeback late in the game to the fact that Prenger kid started to get tired," said Braun. "We were able to finally hit the ball and it shows what this team is capable of, scoring runs in a bunch, in a hurry."
Marion roughed up Celina starting pitcher Brian Brockly early as it scored six runs in the first four innings. Marcus Moeller had a two-run single to highlight a two-run third. Smith and Moeller each had an RBI in the three-run fourth.
Celina returns to action on Thursday at Rockford to face Parkway. Marion Local takes to the road on Thursday as well, traveling to New Bremen for a nonleague contest.