Thursday, April 16th, 2009
Taking a stand
More than 200 people gather in St. Marys for protest of the government
By William Kincaid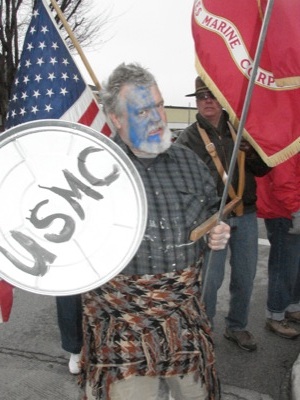 ST. MARYS - Rev. Mark Foor of First Baptist Church, St. Marys, says the U.S. today is not the same country it was when he was growing up.
With his face painted blue - and adorned with a garbage can shield and sword - Foor evoked Scottish freedom fighter William Wallace and urged his countrymen to stand up for their liberties during a Taxed Enough Already (TEA) party held Wednesday afternoon in St. Marys.
On a cold gray day, more than 200 citizens encircled the St. Marys City Building on Spring Street. American and Marine flags were hoisted, while others toted signs with such slogans as "Keep Our Country Free! Too Much Gov't" and "Obama Wants Your Money."
"Socialism sucks," one man screamed through the crowd.
A podium and loud speaker were open to anyone who wanted to voice their discontent.
Foor bellowed his laments against the government, primarily the current administration's taxation policies, to the approval of the crowd. The middle class, he said, has a right to property, whether through owning, manufacturing or repairing.
Foor, sworn in as a U.S. Marine on Jan. 19, 1971, said he is neither for corporate fascism nor socialism, which he believes have spread pervasively through the country.
On Wednesday, Foor said he is still committed to fighting enemies both foreign and domestic and called for a third political party: a Constitutional party.
"I was surprised there were (that) many people," Foor said of the attendees, adding he has no problem being perceived as a kook.
Protesters in St. Marys joined tens of thousands of other dissenters throughout the country on Wednesday (tax day, the last day to file income taxes) as part of a national grassroots movement objecting to government bailouts and gross spending of taxpayer dollars.
St. Marys resident Judy Weng spearheaded the local event.
"The American Family Association was looking for people to represent their areas," Weng said, adding she volunteered for the event a few weeks ago. St. Marys businesses Valentine Photography and Carter Lumber donated supplies for signs.
Weng said she was impressed with the turnout.
State Rep. John Adams, R-Sidney, told the crowd to voice their concerns to their representatives.
"The government needs to hear from you," he said.
Adams said he is sick of people leaving Ohio in search of jobs and lower taxes.
"What kills jobs in the state of Ohio is high taxes," he said through a microphone.
The movement is not rooted in Republican or Democrat ideology and is neither conservative nor liberal, Adams claimed.
Ohio, which lost 220,000 jobs the last 12 months, needs growth, he said.
"We'll walk with our feet. We'll voice our opinions," he said.